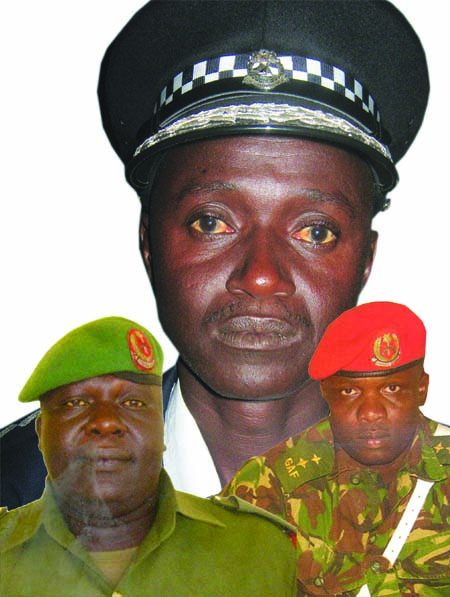 Amadou Samba, a business tycoon, was the sixteenth prosecution witness to testify in the case involving Ensa Badjie, former police chief, and two other senior military officers, namely Lt. Co Mam Matarr Secka and Major Kuluteh Manneh at the Special Criminal Court.
Mr. Samba told the court that he is a businessman dealing in various materials, including the importation of bulk cement packed in 50 kilo bags, adding that he is the chairman of the Gacem cement factory.
He adduced that he only knew the 1st accused person, Ensa Badjie, who was Inspector General of Police, among the three accused persons.
Mr. Samba added that in May 2009, he received a request for construction works at the Kanifing Police Intervention Unit, and he instructed his accountant and the people in charge of delivery, to deliver some cement to the police.
Mr. Samba added that the first consignment was 200 bags of cement, which was loaded on 13 May 2009 and the second consignment was 150 bags of cement loaded on 9 June 2009.
The third consignment was loaded on 6 August 2009, with 200 bags of cement, which was delivered to one Jammeh Conta, former commissioner of police at Kanifing.
He told the court that the donation was geared towards the construction of the fence at the PIU premises, adding that the request was made on behalf of the Gambia Police Force, and he instructed one Assan Sarr to deliver the cement to the police.
He stated that normally, it was the IGP that made the request, but could not remember whether it was in writing.
Under cross-examination, Mr. Samba told the court that he has been in the business for more than 30 years, and that he had made many donations of this nature, but that he did not know whether the cement was used for the construction of the fence as requested.
Still testifying, Mr. Samba said:  "I could not remember having a personal transaction with Ensa Badjie. I could not also remember making a personal donation to Ensa Badjie. I had never made a donation to the 1st accused personally, but on behalf of the police force."
At that juncture, the defence counsel applied for the witness's statement which was obtained from the NIA to be read by the witness.
The witness's statement read that he had given a donation to Ensa Badjie in the form of cement, amounting to 350 bags, but he was quick to add that it was based on a different request.
Meanwhile, after the testimony of PW16, the prosecution led by the deputy Director of Public Prosecutions announced that they had closed their case.
At that juncture, the case was adjourned till 23 February 2012, for defence.  
Read Other Articles In Article (Archive)