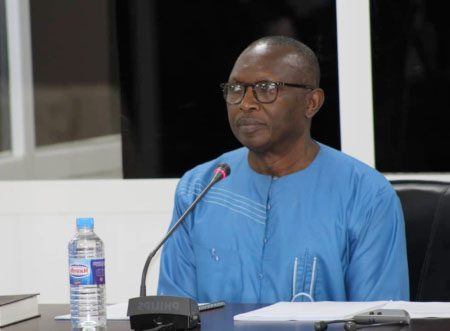 (Issued Monday 21 January 2020)

Prof. Abdoulie Saine, a lecturer at the Miami University in Canada, yesterday testified before TRRC, dwelling into the dictatorial regime of former President Yahya Jammeh. According to him, Jammeh had used the people to consolidate power.

Born in 1951 at Kaur, Prof. Saine also made analysis on his report to the economic wellbeing of the country's human right violations and abuses from 1994 to 2016 during Jammeh's dictatorial regime.

According to him, the first thing he did in 1994 coup was to look on the individuals' motivation for coming up with a coup idea. He said the soldiers then believed there was corruption by the sitting government.

"The soldiers wanted personal economic gain and political position," he said.

Prof. Saine who also holds a Masters degree in Conflict Management and International Political Economics, said the junta members also complained of limited resources.

He, however, explained that The Gambia National Army (GNA) was a fractured institution because of societal problem, and many of them became politically affiliated.

"Then many of the securities on top were having the same ambitions of their civilian political figures," analysing that the GNA lacked discipline to carry out its mandate to protect the nation during 1994 coup.

Putting into account the society and environmental factors during the coup, Prof. Saine said that some groups including graduates from African and Western universities had played a big role in the process.

"By the time of the 1994 coup, Gambia was divided in social economic growth," he said.

Reflecting on 1992 congress of the People Progressive Party in Mansakonko, where former statesman Sir Dawda Kairaba Jawara vowed to resign as the secretary general and party leader, Prof. Saine further believed that the mindset was he could not be dislodged by power through the ballot box.

"After failing to identify a successor in that congress, they started the division and it greatly contributed to the coup."

On his perspective of Gambian soldiers' peacekeeping mission in Liberia, he said it affected Gambia as the gov't failed to pay them their salaries and per diems, which he added created some societal problem that contributed to the overthrow of gov't.

On elections, he said, Jammeh and the APRC made the electoral commission favourable to them as they created it.

"They drafted the constitution to remove the age and the term limits for their own favour to stay in power."

On his analysis on the National Intelligence Agency, which is now renamed State Intelligence Services, Prof. Saine pointed out that creating the NIA by Jammeh was to nurture the culture of silence to the people.

"The NIA had arrested people, tortured, killed, some disappeared to make people afraid. In their 11 November operation, it was to send a message to anybody who dared challenge their role."

"Jammeh created groups like the green boys, junglers, black-blacks to eliminate his political opponents. "It was extrajudicial killings."

The former teacher at the Yundum College further pointed that Jammeh also used judges from Nigeria to render services in his favour, while adding that he used Gambians to craft the laws in order to remain in power.

"He hired and fired judges which was very uncommon in other places – that made people to lose confidence in courts. The bar association played important role in pre independence but it was later to gradually became silent in Jammeh's regime."

On culture and religions, Prof. Saine indicated that Jammeh understood the personality of the Gambian culture and religion and made people to believe he knew a lot beyond the normalcy, just to consolidate power.

"Religious leaders and marabouts are sometimes one and the same and they help legitimacy to those in power. I was made to know he (Jammeh) was able to do anything with his supernatural gift. I was also made to know he had many lovers and raped many."

He continued that Jammeh marginalised the Jola ethnic group and gave them some privilege. He said that Jammeh was someone who prayed in Islam and Christianity, whilst he focused on human sacrifice.

"In the end of his tail government, he said homosexuals will not be allowed, just to attract the Middle East and gain resources."

He alleged Jammeh of killing journalists and ordered the burning down of Independent newspaper just to suppress the press in succumbing to his wishes.

On the opportunity to share his perspective on the word 'secular', Prof. Saine said: "The Gambia needs to be a secular state where all rights should be respected. We need to be more open minded."

Further speaking on Jammeh's dictatorial ruling, he said that he (Jammeh) hypnotised ethnic groups by isolating the Mandinkas and violated their rights.

On election, he said the president should not be given the privilege to choose his own chairperson.

He thereafter, described Jammeh as a political animal who understood his soldiers.
Read Other Articles In Article (Archive)