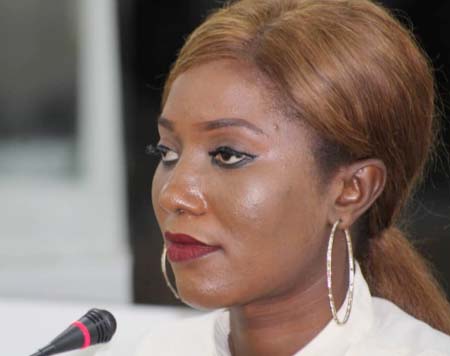 Mam Jarra Jatta, a daughter of a former senior staff of The Gambia Police Force (GPF), Kumba Jatta, who testified before the Truth, Reconciliation and Reparations Commission (TRRC) on Thursday, said her father deserves a medal from the GPF.

She narrated how her father was framed a witch during the 2009 witch-hunt activities orchestrated by former Gambian dictator, Yahya Jammeh.
She explained that her father was someone who never took bribe at the time he was serving the police force, adding that he went to the extent of parking former President Jawara's car for moving out without a convoy and a body guard.
Ms. Jatta testified that her father was born in 1950 at Kaur in the Central River Region and joined the police in 1970.
She adduced that her father was a man of jujus; to fight against his enemies because he was a Balanta and jujus are part of their tradition.
"I went with him in several places and sometimes when he wanted to shake hands with someone, they would refuse and remark that they are afraid of him because of his jujus."
Explaining the witch-hunt activities in 2009, she testified that it was one day when his father closed late from work and she asked him what happened.
She said her father replied that his jujus were confiscated by some witch-hunters who came from Guinea.
"He said as he was in his office, he saw Jesus and RSM Colley with some people with red dresses, who commanded him to surrender his jujus. He undressed in front of them and gave them all the jujus except one. He had push and pull with them until they dragged him into the parade ground and put all his jujus in a nylon bag and buried them."
The witness testified that her father was not happy at the time as he narrated the incident to her. But when he realised that she too was not happy, he cracked a joke and said his enemies wanted to humiliate him, but he knew that the orders given to Jesus were from Jammeh. He said one of the policemen RSM Colley never liked him.
She stated that during that night, her mother told them that her father had been asked to report to Baba Jobe's compound in either Kotu or Kololi the following day. She added that they both told him not to go in that early morning, but he said he was going to make himself clean.
According to her, when her father arrived at Baba Jobe's compound, after sometime, he called but her mother could not communicate with him because his voice was not normal. "My mother called back and someone picked the phone and said Kumba cannot speak now."
"My sisters Abbie and Mariama Jatta went there and saw him lying on the ground. They called him and before he answered, the green boys came and said my father cannot leave the place till the following day because of the medicine that was given to them."
Ms. Jatta indicated that the following day, her sisters went back and picked him up. She said he was not able to speak well but after some days he started to speak well.
"He told me that they were given some medications to drink. He also said that some people were confessing that they broken down aircrafts and ate some people."
The witness continued that her father was weak and later returned to work after some time; adding that one day as they were discussing, her father told her that he was going to leave the job because he was given 365 days leave by The Gambia government.
She, however, testified that her father later developed sicknesses and he couldn't do anything for himself, saying he was admitted in Africmed, Baffrow and Kanifing hospitals and doctors said that he had hypertension and diabetes.
"Sometimes if the sickness came to him, we would have to close the compound gate because he used to run and spend nights in the streets. It went up to a point that some people used to run away from us because they were seeing our family as witches."
She added that all her father's friends turned their backs on him after the incident.
Read Other Articles In Article (Archive)