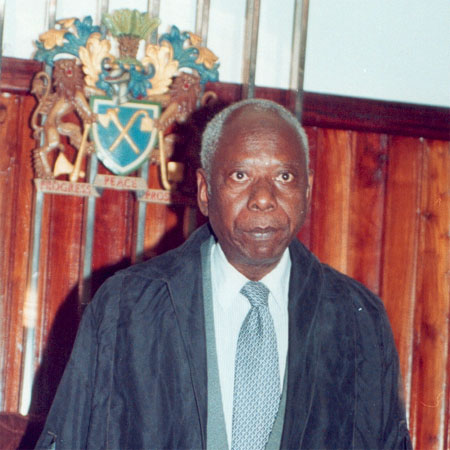 Newspapers and individuals wrote about Sheriff Mustapha Dibba's autobiography and his contributions towards national development.
But I am here to write about Hon. S.M. Dibba as an individual and as a politician.
May I start with Hon. Sheriff .M. Dibba as an individual, he was a gentleman in totality, he was honest, truthful and never wanted to cheat anyone in any dealing with him.
He was very intelligent and very aware of his environment. He never unnecessarily risked his life. Sheriff .M. Dibba knew what to say, when to say things, where to say things and to whom. He was not easily carried away by a crowd or the sentiments of one. Sheriff .M. Dibba was very organised, he had an enormous amount of knowledge which, is the unique faculty of man and was an integral part of his personality and his being.  All of this in the face of the fact that he had suffered because of truth.
He was always concerned about his credibility as a leader and being born of a family, he never wanted to disappoint anyone. He was fully aware that academic respectability depends on an adherence to truth.  This is what I know about the late Hon. S.M. Dibba as an individual.
As a politician the late Hon. S.M. Dibba was a very active and influential man.  He started politics with the first republic in 1959 when I was in standard two and 14 years old. Hon. Sheriff .M. Dibba was a prominent figure and complex personality. The political history of The Gambia cannot be completed without him.
Mr Dibba was a mature politician who never involved himself in petty and parochial matters.
He was one of the most effective and progressive ministers of the P.P.P regime and had a great love for his country.  Dibba had never at any moment of his life had any intention to exchange this love for his country for any material wealth. What he did want was the rapid development of this country so much so that while he was a member of the P.P.P. he changed parties in order to achieve it.  In 7th September 1975, the late Sheriff .M. Dibba and colleagues formed an opposition party known as National Convention Party (NCP) of which I am a member. He led this particular party till his death.  He believed in the ballot box and aspired to become the president of this country. He was a principled opposition leader and a great respecter of the law.
He never believed in any form of violence. He was never hostile to his opponents in political field and always played a decent straightforward political game. He respected the rules of honest politics in spite of the fact that his opponents more often than not didn't.
In 1992, I was in parliament with him as an opposition member and he gave me the advice that as parliamentary members, we should always be good examples to others. I was one of the heady ones in particular but I always took his advice because he was very experienced when it came to politics.
I will now close my tribute with a few remarks about the late Hon. S.M. Dibba.
He was am impregnable rock of central Badibou and an ardent and dedicated politician of the Gambia.
He was an ENCYCLOPEDIA, an excellent example for generations to come and he will always be remembered for the excellent work he did while he was alive.  I love him because he was honest, I like him because he told the truth and I admire him because he was content with what God gave him.
May his soul rest in perfect peace.
Prepared by
Ex NCP Member of Parliament
Hon. Ibraima Janko Sanyang
Western Foni
Western Region
Read Other Articles In Article (Archive)