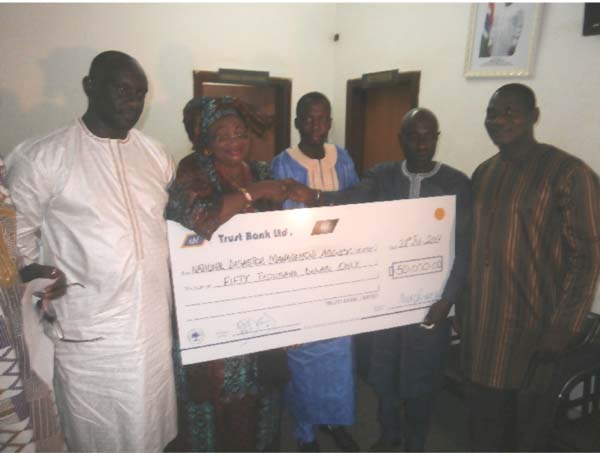 Trust Bank Gambia Limited has presented a cheque for D50,000 to the National Disaster Management Agency (NDMA) for disaster victims.

The donation, handed over to the NDMA on Friday 28 July 2017, was in response to support the victims of disaster caused by the recent rain and wind storms.
The donation was in response to an urgent request for logistical support to help the victims overcome some of their challenges.
The event, held at the NDMA head office on Kairaba Avenue, was graced by the Executive Director of Women's Bureau - Mrs Binta Sidibeh (also deputizing for the Vice President), Executive Director of NDMA, Mr Alhagie Sanneh and his management team and also members of the Senior Management team of Trust Bank Ltd.
In his remarks, the Managing Director of Trust Bank Ltd, Mr Ibrahima Salla said:
"Our partnership with NDMA is a longstanding one and we share some common values.
"We have never relented in our efforts to provide financial and logistics support to NDMA to enhance their level of preparedness in disaster prevention, mitigation, response and recovery.
"Disaster happens very often and it will continue to happen without end. Once it occurs, it can have severe consequences on human life and property, with damages that can reach millions of dalasis with adverse effects on the economy.
"As a proudly Gambian bank and a stakeholder to the local economy, we identified disaster relief as one of the many areas we could collaborate with government through our Corporate Social Responsibility to prevent or mitigate the effects of disasters.
"At Trust Bank Ltd, we strive to foster hope among our local communities by helping to create the right environment for victims of disaster to have the kind of support they need.
"By focusing our giving through our Corporate Social Responsibility program, we are moving closer towards our goal of creating hope where there is despair.
"We are immensely proud and humbled that our donations are touching the lives of individuals and families throughout the country."
Mr Salla also expressed his profound appreciation to the government of the Gambia through the National Disaster Management Agency (NDMA) for the coordination and funding of disaster relief and humanitarian affairs in the country.
Deputizing the Vice President, Mrs Binta Sidibeh extolled the excellent relationship that Trust Bank has with government.
"As a truly Gambian Bank, it was no surprise that Trust Bank was the first Bank to answer to the clarion call. Government values its partnership with Trust Bank and hopes that it will grow from strength to strength."
The executive Director of NDMA, Mr Alhagie Sanneh said:
"The agency has registered over 4,000 windstorm and flash flood victims so far. The Department of Water Resources predicted this year's rains to be above normal and likely to displace over 35,000 people (mainly women and children). Disasters are no respecter of race, tribe or social status. They are events that inflict great damage, destruction and human suffering. The onus therefore is on all of us to join hands and support NDMA in our quest to provide relief service to victims of disaster."
He thanked Trust Bank Ltd for their continued support over the years and enjoined the private sector and the general public to emulate them.
Read Other Articles In Article (Archive)