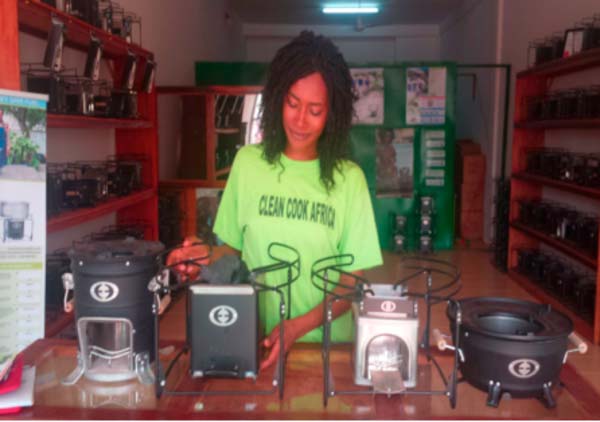 Clean Cook Africa, an environment solution cooking stove selling company, said it aims to promote and sell clean cooking technology in rural and urban areas of Sierra Leone, Guinea, and The Gambia, in hopes of eradicating energy poverty, save the environment and improve health and wellness in individuals.
Isatu Bah, chief executive officer, Clean Cook Africa, speaking to The Point recently said her office at 151 Mosque Road in Serekunda has three types of cooking stoves: the Econochar, CH-5200, Econofire and M-5000 - designed in the USA by Envirofit.
"Using Clean Cook Africa cooking stoves saves time, money and fuel. Our women in the kitchens are silently killed by toxic emissions, but clean cook stoves cook faster with little smoke, easy and clean," she said.
She added: "Less money is spent on charcoal, and it is easy to use, no spot on walls and pots. This is civilized, you can cook in your own house, and more people are responding positively to our cooking stoves, because they cook faster and also economize charcoal."
Bah noted that people need to ask themselves whether their stoves are saving time, life and the environment.
According to her, so many people like the idea, and realised that it could help in saving the environment by going green.
Clean Cook Africa has its headquarters in The Gambia, and is also operating in Senegal, Guinea Conakry, Guinea Bissau and Sierra Leone.
They hope to expand to other African countries solely to discourage deforestation, and to create employment for many youths in Africa.
"Our goal is to have a clean cook stove in every household in Sierra Leone, Guinea and The Gambia. Our mission is to improve health and wellness by eliminating exposure to smoke from traditional fires, such as charcoal and wood burning.
"We have high-performing clean cooking stoves that provide significant health benefits to families dependent on solid fuels such as wood, dung, crop residues, charcoal, even coal by eliminating dangerous smoke and gases from the home.
Not only do these stoves burn cleanly, but are extremely user-friendly and safe to use. They are of durable design. These stoves drastically reduces greenhouse gas and soot (black carbon) emissions. This means a greatly reduced Global Warming Impact," she stated.
 According to her, Clean Cook Stove is clean, safe, efficient, and has tested into the highest possible ranking by the U.S. Environmental Protection Agency and the Partnership for Clean Indoor Air.
"Because it is powered by alcohol fuels, the stove virtually eliminates household air pollution and drastically reduces emissions.
The stove is currently available in single burner and double burner models," she said.
 Bah stated that Clean Cook is extremely safe due to its innovative canister, located underneath the stove. The canister must be extinguished and removed before refilling. Its absorptive fiber filling prevents fuel from leaking, even when the canister is held upside down.
Furthermore, the canister is not pressurized, eliminating the risk of explosion. The stove has logged over 8 million days of use without a single accident.
"The Clean Cook surpasses cleanliness standards. It has been tested as a Tier 4 stove by the US Environmental Protection Agency and the Partnership for Clean Indoor Air.
The Tier 4 classification is the highest possible performance ranking and signifies the exceeding of "goals for targeting ambitious health and environmental concerns."
Read Other Articles In Article (Archive)