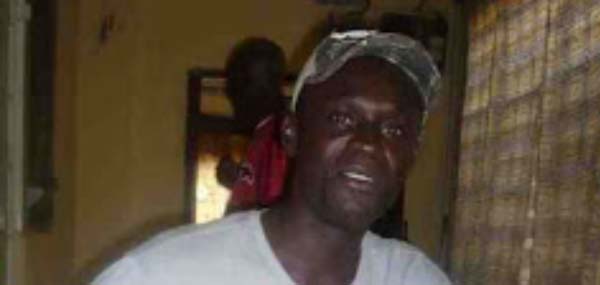 (Friday October 17, 2014 Issue)
Here I briefly profile but pay tribute to the Late Lamin A Darboe who passed away in a sad and pathetic circumstance. The news of the tragic demise of my late fallen colleague was made public from the Independence Stadium when The Gambia was playing Tunisia at U-20 Qualifier but with utmost shock and disbelief.
Born in Niumi Bakindik, Lamin's actual birth date is not very exact as i could not confirm it at the height of the sad news that rocked the town on that fateful Saturday. However, another pal of the Late Lamin Bakebba Fofana says Darboe's age could be 37 or 38years. During his tender age at Bakindik, Lamin was a shy and receptive fellow with instructions of hard work and active duty on his father's farms. He got his Primary education at the Village school Bakindik Lower Basic before moving to the Middle School.
Lamin later progressed on higher and tertiary education at the Gambia College in 1999 where he decided to take up teaching. Darboe completed his three year Primary Teachers Certificate training in 2002 and began active Classroom work at Dampha Kunda in the Upper River Region where he still continued his Sports Reporting before being moved to Dingiri in the North Bank of the Upper River.
As a Teacher related to movements, Lamin continued to be on the move and finally came closer home to Mamuda in the North Bank Region from where he applied to pursue the Higher Teachers Certificate at the Teacher Training College in Brikama to form part of fist badge of students on majoring Physical Education. After receiving two years of tutorial course at the Brikama Campus, Lamin chose Penyem for his one year Distance Learning. At the time of his death, he was teaching at Jamisa Upper Basic School in Brikama with two trained Certificates in PTC and HTC. While as a Teacher, Lamin was an active Sports Journalist with the Foroyaa Newspaper his stories dominating the back pages of the Foroyaa tabloid with both local and international stories. His long standing spell in the fourth estate has earned him admiration and respect among his colleagues. In fact, he was serving Treasurer to the Sports Journalists Association of The Gambia (SJAG) at the last Congress held on 2nd October, 2010.
The Late Lamin A Darboe came to encounter two couples from Denmark who are philanthropists to some poor Gambian communities in social work and education. Alice and her husband confirmed Lamin as the Co-ordinator to their project with Scholarship aids to some Gambian School children. The couples sometimes in mid August, 2010, invited Lamin to Denmark where he spent a forty day Holiday. It was observed that his life was on the change after returning from Copenhagen.
But the question on our lips asks-How did Lamin loose the grips of staying on Earth?
The Late Lamin A Darboe was returning from Tobaski feast in Bakindik on Saturday morning to Banjul ahead to Farato so as to catch up with the Gambia VS Tunisia U-20 Africa Cup of Nation Qualifier at the Independence Stadium in Bakau. At the Barra Ferry crossing point, he drove his vehicle slowly into the Johe ferry but went much further ahead and plunged into the river. Lamin was seen on three occasions struggling for rescue, but no aid and eventually drowned ending his youth life.
His death body was recovered the following day Sunday at the banks of Essau and later transported across the river to Banjul for post mortem. Scores of people stormed the Essau Health Centre where the body was initially laid at the Mortuary-setting eyes on Lamin's body without motion was tears running. The body was finally referred to the RVTH before burial at the Jeshwang cemetery. His village Bakindik was the end point of all roads during the day with showers of praise for his generosity, respect and hard work been the bread winner of the family.
Lamin's blossoming prosperity was short-lived after he started establishing an Arabic and Nursery School at their Village for Community use. He didn't die intestate because his widowed wife Yama Darboe was been left with three kids, two boys and a baby girl. Lamin is the second departed soul in less than two years after another of my former comrade the Late Fatou BK Mbye who also passed away in late October of 2009 from the Sports Journalists fraternity.
During our hey days together at the Gambia College where he developed his skills in writing been a Member of the Press Club, Lamin's only hobbies were Reading, Writing and watching Sports games. He is accustomed to putting on caps, jean wears and rounded neck T-Shirts. Not much music attracts him but Kora Maestro Jaliba Kuyateh gingers him.
As I bring down the curtains of this Tribute, my tears run down on my chicks heaping my regular prayers for God's mercy on the Late Lamin A Darboe. May his gentle soul and all those departed before him continue to rest in Peace. RIP

Bakary B Baldeh, GFF Publicity/Marketing Officer


Read Other Articles In Article (Archive)