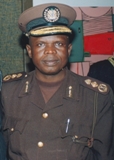 The Director General of the Gambia Immigration Department, Buba Sagnia, has said that the greatest weapon to combat any problem is knowledge, and that knowledge is the most expensive commodity of our time.
He was speaking at the opening of a day-long training session conducted by two investigators from the US Embassy in Dakar, Senegal, held at Immigration headquarters in Banjul yesterday.
The training exercise, organized by US Embassy in Banjul in partnership with US Embassy Dakar office, was conducted by Kerry Osterhout, Overseas Criminal Investigator, and Alieu Ba, Criminal Fraud Investigator, both stationed at the US Embassy in Dakar.
The training course, among others, sought to capacitise immigration personnel drawn from the Lower River, West Coast, and North Bank regions, as well as the airport on how to detect fraudulent passports and other documents used by impostors, and on detecting impostors.
Mr. Sagnia commended the US embassy for its support and longstanding partnership in terms of training for the security services of The Gambia.
The Immigration boss urged his men to endeavor to live up to expectations, noting that they are few out of many who are privileged to take part in the training course.
DG Sagnia was, however, optimistic that the knowledge gained during the training will guide his staff in their daily responsibilities, while also urging them to share their new knowledge with their colleagues who could not attend.
He expressed the hope that this sort of cooperation and support from the US diplomatic mission in The Gambia will be a continuous thing, in the interest of security in The Gambia and worldwide.
Kerry Osterhout, Overseas Criminal Investigator and an attaché at the US Embassy in Dakar, told the participants that their work is to detect fraudulent passports.
"The Government of The Gambia accepted us with open arms, and allowed us to come at short notice to provide this training. It is a wonderful experience being in The Gambia," she said.
According to her, in West Africa, in particular, there are many threats, and it is the responsibility of the participants to look at such things closely.
"It is a job that is difficult to do, but I am imploring you to do more," she added.
In her presentation on 'Detecting an Impostor', Investigator Kerry said her work is to investigate fraudulent documents, including visas and passports.
Read Other Articles In Article (Archive)