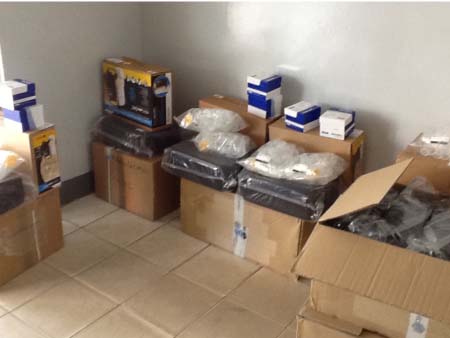 The Ministry of Trade, Industry, Regional Integration and Employment (MOTIE) recently handed over quality equipment to the groundnut and sesame stakeholders at a ceremony held at the ministry in Banjul.
The equipment for the groundnut stakeholders included moisture meters and Aflacheck kits designed for the sole purpose of testing the quality of groundnuts.
Meanwhile, the sesame stakeholders also received tarpaulins for the proper handling of sesame at the farm and post levels.
The handing-over ceremony was attended by staff of the ministry and representatives of both the groundnut and sesame stakeholders.
Speaking at the ceremony, the minister of MOTIE, Abdou Colley, disclosed that the equipment have been acquired under the sector competiveness and export diversification project (SCEDP) of the Enhanced Integrate Framework under the ministry.
"The SCEDP targets the agric sector specific support for cashew nuts, groundnuts and sesame with focus on finding new export opportunities, product diversification, improved value addition, quality enhancement and strengthening sector support institutions component A,'' he said.
According to him, the equipment presented worth D1.5 million and is part of the ministry's support geared towards the achievement of quality in order to increase export opportunities for groundnuts and sesame.
He noted that the quality of groundnuts and groundnut products is determined by the farm operations.
Minister Kolley stressed that a key concern of quality in groundnuts is Aflatoxin contamination, which havsbeen shown to cause infection of the liver in humans as well as other warm blooded animals.
"For that reason aflatoxin should not be present in any substance used as food," he stressed.
He pointed out that a major source of aflatoxin contamination is excessive moisture content in the groundnut produce at 10% or above.
He added that the moisture meters and Aflacheck kits being handed over are used in testing the moisture content of groundnuts to determine the safe levels for the control of aflatoxin, once the moisture content is known, appropriate steps can be taken to manage it to acceptable levels to avoid contamination.
He said the equipment can also help to monitor the moisture content during storage by taking measurement at receipt and regularly over the period of storage in the premise of the trader or the processing plant allowing for corrective actions to maintain moisture levels and temperatures at recommended levels.
Read Other Articles In Article (Archive)