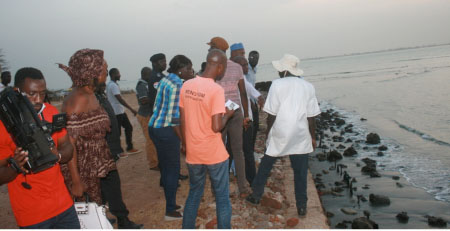 As part of his ministry's policy to visit all tourism and cultural facilities under its purview, Tourism and Culture Minister Hamat Bah on Monday began a weeklong tour to gain firsthand information about the facilities.

The minister was accompanied by heads of three institutions under his ministry; GTBoard, NCAC and GTHI as well as other tourism stakeholders.
Speaking at the first visit at Fort Bullen at Barra, Minister Bah thanked all those who are part of the tour, saying that the visit was important as a ministry as it's designed to see for himself what's happening in these facilities.
Hassoum Ceesay, director general, National Center for Arts and Culture (NCAC), said Fort Bullen is a UNESCO heritage site that is highly valued, pointing out that it was the only fort along the West African coast which was specially constructed in 1830 to stop the slave trade.
Fort Bullen was built to control the illegal shipping of slave from the River Gambia area," he disclosed, adding that UNESCO heritage site is very important "although we suffered a setback about fifteen years ago because it was occupied and was a no go area which affected the fort."
"Once they tampered with the integrity and since then, we have worked with the British Embassy to upgrade the site because we want to work with the people of Barra to use it to host their annual festival."
Mr Ceesay added that the facility was tampered with and the stone masonry was covered with cement which really made it lose part of its originality.
"So now with the instruction from the minister, we would bring technicians to remove the cement layer so as to allow the originality of the stone masonry to be visible," he disclosed.
Read Other Articles In Article (Archive)