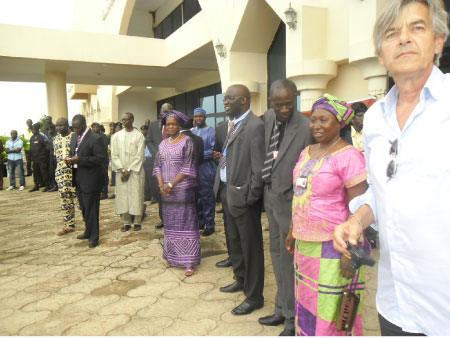 Fatou Mass Jobe-Njie, Minister of Tourism and Culture, accompanied by senior officials from her ministry, officials from The Gambia Tourism Board and journalists, recently received another airline called The Gambia Bird, few days after receiving Corendon Airline from Holland.
Speaking to The Point tourism and entertainment columnist shortly after the landing of the aircraft at the Banjul International Airport, Fatou Mass Jobe-Njie said it is a great opportunity for the country, particularly, in the area of tourism promotion.
The new development will also increase the dimension of tourism in The Gambia, she said.
The tourism minister thanked the Gambian leader for his efforts at developing tourism in the country, adding that this year's tourist season is looking bright.
"The Gambia Bird is an airline we should support because it belongs to us," she said, adding that the coming of Gambia Bird and other airlines in the country, tourism will be boosted this year.
Benjami Roberts, director general of the Gambia Tourism Board, while talking to journalists at the airport, said: "The new airline is a plus to the country and it will contribute to the increase of our arrivals from the European countries.
They are also looking at the services of this airline from Nigeria, he noted, saying that marketing is the focus of the GTB.
 "We will ensure to continue the marketing," he added.
The GTBoard boss told journalists the Board is also looking at intensifying marketing within the sub-region.
Thomas Wazinski, Chief Executive Officer of Gambia Bird Airlines Limited, said: "Our vision is to change the aviation market in West Africa by providing a safe, reliable and scheduled service across all major cities in the region focusing on air travel for business people, tourists and domestic traffic, alongside local West African expertise, warmth and friendliness."
The Gambia Bird is supported by the German Group, a German airline with 26 years wealth of experience in the aviation industry throughout Europe, the Middle East and North Africa.
Gambia Bird landing in Banjul for the start of our new airline has opened a gateway to West Africa that brings safe, reliable and exceptional air travel within the reach of every customer.
The aircraft, A319-100, branded with the national colours of The Gambia, will seat 138 passengers in Premium Economy Class and offers a full range of in-flight hospitality.
Read Other Articles In Article (Archive)