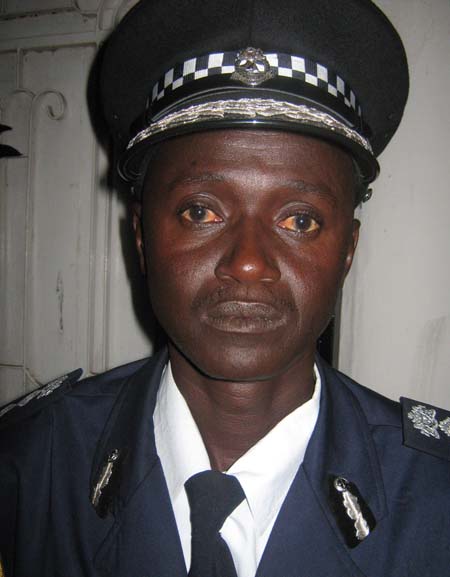 Ensa Badje, former police chief, yesterday told the Special Criminal Court that the robbery allegation was a plot against him.
Badjie was continuing his defence testimony under cross-examination in the ongoing robbery trial involving him and chief superintendent of prisons Ali Ceesay.
According to Badjie, Soriba Condeh (the first prosecution witness) was arrested at Bakoteh and gave the name of Ebrima Camara, when he (Badjie) was the officer commanding at the Kairaba Police Station.
He said he requested for the case file of the motorcycle, and handed it over to the prosecutors, adding that it would be a surprise to him to know that Condeh was not prosecuted.
"My allegation on robbery was investigated, and found to be false. Robbery was the first thing I was investigated on, while I was the officer commanding at Kanifing," he told the court, adding that the investigation was carried out by the serious crimes unit, and he was never demoted.
Still testifying under cross-examination, Badjie said: "I got an order from my senior man, commissioner Ousman Gibba, to raid all the bars within Serekunda, and City Pub was among the bars we raided, where criminal and illegal immigrants loitered around," the former police chief told the court.
He denied that Tony Yaya Babou Khan, the owner of City Pub, was his friend, and was not arrested because he had his operating licence and, besides, he did not commit any crime.
He said Condeh was first prosecuted by Burama Dibba at the Kanifing Magistrates' Court, adducing further that Dodou Boy Janneh never met him at the City Pub.
"I stop going to City Pub in 2006," he added, refuting the allegation that the eighth prosecution witness was close to him.
Badjie denied ever being tried for an offence and acquitted, and said this one was a plot against him.
"The panel at the NIA plotted against me. I am not the only IGP this country  has ever had. One IGP was arraigned for criminal offences and others were detained and released," he adduced.
He added: "If I did anything wrong, I would accept it; but I did not commit anything wrong. Although I am not perfect, I have never committed anything wrong during my tenure as the IGP."
He further told the court that he spent 22 years as a police officer, adding that he is currently being tried in four different cases, with different allegations and witnesses.
The case at that juncture was adjourned till 24 May 2011.         
Read Other Articles In Article (Archive)