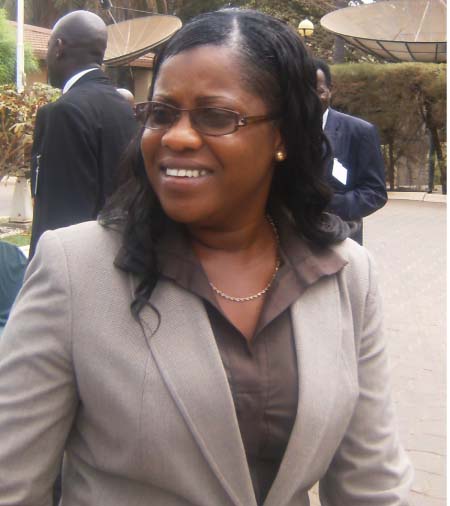 Fatou Mass Jobe-Njie, Minister of Tourism and Culture, on Wednesday commissioned nine new TSU guard posts in the Tourism Development Area.
The official handing over of the guard posts to the Ministry of Interior and The Gambia Police Force was held at Duplex Night Club in Kololi.
The event was witnessed by senior government officials, tourism stakeholders and other members of the private sector.
In her opening statement, Minister Njie said the day was very significant as it has marked yet another milestone in the annals of The Gambia s tourism industry.
It would be recalled that some years ago, the Ministry of Interior conceived the concept of developing Tourism Security Unit (TSU) Guard Posts along various vantage points within the TDA with the objective of enhancing security within the Tourism Development Area, extending the timeframe within which security personnel of the TSU keep watch over the various entry points to the beach, and curbing vices and nefarious activities within the TDA that have often times reared their ugly heads much to the displeasure of government and civil society.
That was the reason the guard posts were being constructed for security purposes within the TDA, the Tourism Minister noted.
She also said provision of guard posts is indeed an initiative that has received industry-wide consultative and participatory support.
Through the leadership of the GTBoard, hotel owners, hotel managers, the Travel and Tourism Association of The Gambia and the Gambia Hotel Association have all contributed to the successful realization of this noble endeavour, she added.
According to her, the construction of the guard posts could not have been realized without the support and involvement of the Office of the Inspector General of Police from the onset, as well as the untiring efforts of the Commanding Officer, Commissioner Fofana, who demonstrated exemplary commitment and dedication to duty.
Minister Mass Jobe-Njie informed the gathering that Destination Gambia is resolved to increasing its tourists arrival numbers to 900,000 tourists by the year 2020.
"Indeed we believe that we can realize it sooner and to achieve this, we must begin to improve on our standards and on our service delivery initiatives across the broad spectrum of the Tourism Industry," she noted.
Benjamin Roberts, director general of Gambia Tourism Board, thanked all those who attended the programme.
The purpose of the guard posts is to maintain security within the TDA so that tourists who come to The Gambia for their holidays "will have no problem", Mr Roberts said, adding:"We expect holidaymakers to enjoy their holiday without any problem."
Read Other Articles In Article (Archive)