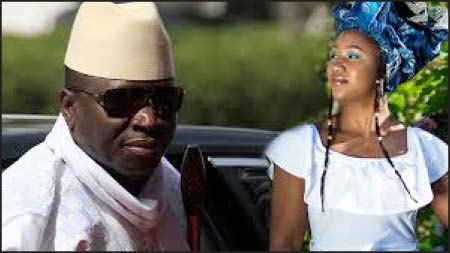 Former President Yahya Jammeh's alleged rape victim, Fatou Jallow, alias Toufah, Thursday testified before the TRRC and disclosed that Mr Jammeh penetrated her during a night of the Muslim month Ramadan.

On how that happened, she explained that there was a time she was invited to Jammeh's residence for a Gamou and after the ceremony, she went with Jimbe Jammeh, one of Mr Jammeh's then protocols into a waiting room.
"A while later, Jammeh came at the back with red eyes and dragged me into a room. He told me don't you know am the president and I get any woman I wanted," the young girl who became the first person to publicly accuse Jammeh of rape told the Commission.
She said Mr Jammeh angrily got hold of her and told her that he will see whether she was a virgin or not. "Jammeh pulled my dress up and I was pleading for him to forgive me. He pulled a needle and injected me and later penetrated me. He didn't want any pleasure from me but to hurt me. All this happening, I could hear the Qur'anic recitation and the Gamou was still on."
The 2015 winner of the Miss 22 July scholarship pageant added that Jammeh was sweating and she was lying crying for help when there was none. "He put his penis in my anus instead of my vagina. I later could not hear the background recitation and the voices started to fade out and I couldn't tell for how long I slept there."
She said after getting conscious and waking up, Jammeh told her to get out and she walked out and was taken by one of the drivers call Landing while she was in tears. "After that, I stayed for 3 days without going out because it was in Ramadan. I couldn't share that with my mother because she would have protest and that could cause us trouble."
She continued that at that time she had only two options, saying one was to stay and she would be made sex worker or to leave the country. She said she later told her aunty to send her money which, she said she did and that was the time she went to Banjul and boarded a boat and managed to cross the border into Senegal in June 2015.
"I got to Senegal and contacted Ebrima Chongan and explained to Omar Top, Article 19, Amnesty International and head of police. I was taken to UNCHR and they helped me in going to Canada on 6 August 2015," she said.
Witness continued that her younger sister Penda who was 15 years then, was taken along with her mother and at sometimes had to answer questions from the Police and NIA.
She explained her other engagements with Jammeh, saying that she was part of the July 22 beauty pageant in November 2014 and she represented The Gambia College, stating that she was selected with another girl upon completing the preliminary round.
"We later went to Paradise Suite Hotel for two weeks camping to train before the main day. We were told that some of the winners will be offered scholarship and former President Yahya Jammeh will also offer a gift of his choice."
Toufah revealed that at the end of the competition, the winners were announced and she was the winner of the tertiary education. "We were given gifts from Ida's Idea and others that were put in baskets."
Explaining her first meeting with Jammeh, she said they went to state house and a protocol called Aisha Barry picked her at the gate. She added that they met Jammeh in his office, adding that they cracked jokes and Jammeh asked her whether she was the one suffering from stomach pain, and she replied yes. "He gave me a bottle of black water to drink. He said it can ease my stomach and he gave me D50, 000 and others were given something as well."
She said in December, they met him for courtesy call and the ministers were advising them to respect their education. "The president advised us to concentrate on our education and not to jump into marriage early. He gave us Apple laptops, iPad and iPhone and gold coins which his head was designed and he gave me D200, 000 and others received 100, 000."
Ms Jallow said on January 3rd 2015, Jimbe Jammeh called her and asked about the project that she was working on and told her to bring it to Jammeh; adding that a driver called Landing Sanyang collected her around 10am and that was the first night she met with Jammeh.
She said upon arrival, Jimbe took her into a room and one orderly took her bag and phones and King Papa asked them to wait. She said King Papa went in and later came and told them to go in. "We walked into the room and there was no one in the room and there was a bed. We sat down and Jimbe was asking me about my school and she told me that Jammeh is praying and will come in upon completion. After one hour plus, he came in grabbed my hand and hugged me. We sat with him on the chair and Jimbe sat at the other corner of the chair."
She said Jammeh was explaining his childhood stories to him and asked her how she was able to play the Kora. "He asked me about my project and I explained the concept of trying to organize a national drama competition and he welcomed the idea.
She explained that later Jimbe came with a bag and said is a gift from them and it was a gold coin.
The second time was to show him the project plan. She revealed that it was when she texted Jimbe that she was done with her project and she asked her to wear something that will tighten her body and he sent Landing to picked her around 7pm. She said it was the same place was taken to the other time and they entered a house that had Jammeh family pictures.
"I met Jammeh with no big clothes and he was watching Senegalese wrestlers. He smoked in front of me and he later asked about my project and told me to increase the budget. He that day offered me a protocol officer at State House and I told him that will be a great offer when I completed my studies and come back. I declined and he understood and didn't force me."
She said their meeting ended with nothing inappropriate and he hugged her and she left for home with the driver at round 11pm.
"Jimbe came to our house and realized that we were not having water, she informed Jammeh and in weeks there was water. There was a time she took me for shopping and bought bedroom furniture for me as gift from Jammeh."
In another engagement with Jammeh at his residence, she explained that Jammeh was concerned about whether my father supports any party apart from APRC and whether I listen to Fatu Network or Freedom Newspaper, I replied 'I didn't.'
"He asked of what I think about married and would I marry him. I told him I do not want get married at that time and he said there is nothing wrong for me to marry someone who will take care of me. It was later King Papa gave me D50, 000 and Jammeh said it was for my coming."
In June, she explained that Djimbeh called and said she wants to see her.
"I went and she show me a compound and car and said is mine. I told her that I don't want to get married but anything you give me, I will take it. When Landing was driving me back, he told me to be careful because Djimbeh is a powerful person at State House. I later tried to block Jimbe's line but she still used to call me with no caller ID."
Read Other Articles In Article (Archive)