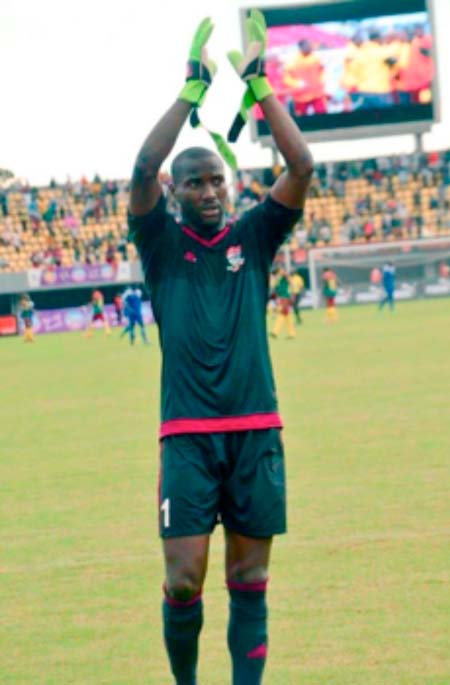 Asc de Linguere international goalkeeper Modou Jobe has delivered a man of the match performances after leading his club to a hard-fought 2-0 win over Ndiambou in the Senegalese first division league on Sunday.

The Gambian international goalie has made four world-class saves to deny the Ndiambou any hope of victory in a fascinating encounter.
His individual brilliance saw him complete a clean sheet in sensational style with goals from centre back Omar Jine and midfielder Ndiaga Yade making the difference.
Those goals were all Asc needed to improve their current league standings.
They sit at 10-place prior to the weekend match but the win has catapulted them to 9 places, three places above the relegation zone in a14-team league standings.
The combative defender Omar Jine's goal came in the 67th minute when he took advantage of a loose ball from the near post and made no mistake in hammering home from a corner kick.
Midfield star Yade made sure of the victory with a neatly taken shot at stoppage time, sending the cheering Linguere fans into celebration in a delightful evening in Dakar.
The former U-17 youngster Jobe, who has won a regular first-team place with the Scorpions ahead of fellow goalkeepers Alagie Nyabally, and Baboucarr Gaye, is highly impressed with his team performance and is confident of a great season.
"I'm confident we will have a great season as the league progresses," said the former Armed Forces and Real de Banjul gloves man Jobe, who started at goal and was outstanding when Scorpions recorded a breathtaking 2-1 victory over Central Africa Republic in their final friendly international match last week.
Toldo moved to Senegal in 2015 where he signed a semi-professional contract with Niary Tally.
He led them to the coup de Senegal title in his final game at the club prior to joining current club Asc de Linguere.
The impressive goalkeeper Toldo admitted he was delighted to complete two straight clean sheets as he set his sight firmly on winning the league with the Senegalese club.
Read Other Articles In Article (Archive)