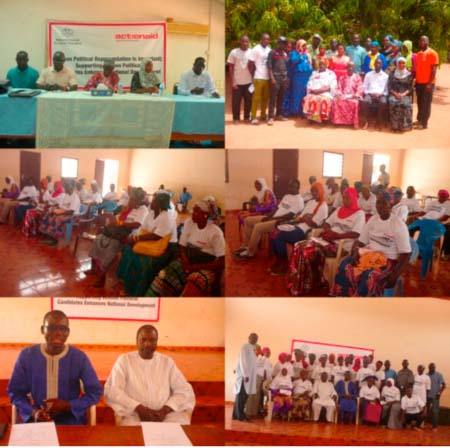 The National Council for Civic Education (NCCE) on Sunday concluded seminars on women participation in politics and election for the communities of Mansa Konko, Farafenni, Janjangbureh and Basse respectively.

The seminars, which brought together participants from all political parties in the country as well as activists, were funded by Actionaid International The Gambia.
The theme for the seminars was "enhancing women political participation and representation."
Speaking at the Basse seminar, Yusupha Bojang, NCCE Programme Officer, said women political representation is important, adding that they want to ensure women graduate from lagging behind to taking the lead.
He urged participants to share the knowledge gained during the seminar with those not fortunate to be part of it.
Mr Bojang noted that women have the right to hold political offices, hence they should support women candidates seeking political positions.
Kaddy Janneh, Upper River Region Women's Bureau Program Officer, said the Gambia government recognises gender equality and women empowerment as a key factor for the attainment of social and economic development.
She added that a number of measures were taken to mainstream women into development processes.
She also pointed out the various national acts and policies as well as international protocols government has signed and established.
She noted that despite the efforts, few women hold senior government positions and other executive bodies.
She said while women are very active in political mobilization for voter turnout during election, they fall short of patronising women political aspirants.
She thanked NCCE and Actionaid International The Gambia for organising and funding the seminar geared towards improving women's participation and representation in politics and election.
Jahara Juwara, Basse Area Council Chairman, in his remarks, said people described politics as a dirty game but noted that in reality it is not because lives depend on it.
He added that politics does not have to be a tribalism affair, attacking and insulting each other but rather selling agenda and convincing people to join and vote for you.
He remarked that politics comes and goes but nationhood and togetherness as citizens stays forever and, as such, they should not allow politics to divide them.
Yankuba J. Marena, chairman of Janjangburah Area Council, said they are all one people and believe any party that wins would serve the interest of the nation.
Read Other Articles In Article (Archive)