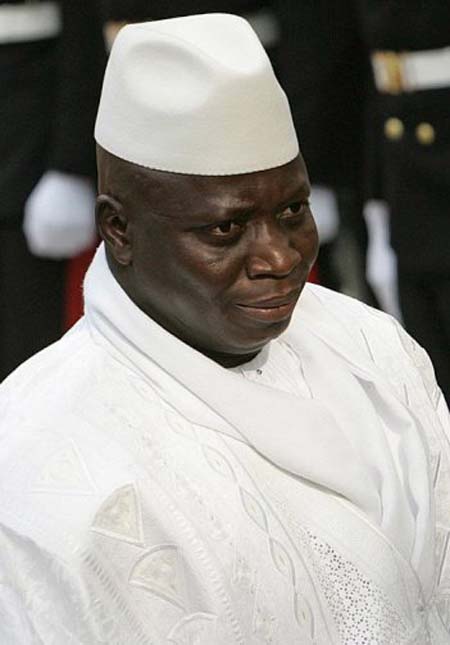 In line with his constitutional mandate, President Yahya Jammeh is expected to embark on a nationwide meet-the-people tour starting today, Monday, with critics saying this should not be used as an occasion for political propaganda ahead of scheduled presidential, parliamentary and local government polls in the country.
The tour, which comes once or twice annually, is among others, expected to avail the President the opportunity to meet with the people, know their concerns and work towards addressing them. It will also give the president the opportunity to assess development projects on the ground.
According to the tour itinerary, President Jammeh will be holding meetings in Njaba Kunda, Farafenni, Ngayen Sanjal and Kaur, all in the North Bank Region, Jangjangbureh in the Central River Region, Bakadaji, Gambisara, Baja Kunda, and Sutukonding all in the Upper River Region, among others.
Jammeh, who will be seeking a fourth term in office this year, has vowed not to embark on any political campaign for the scheduled 24th November presidential polls. 
He said last month that the forthcoming elections will be the "final forty days charity" for opposition in this country.
"Gambians are very grateful people, and they are development-oriented. We are going to teach the opposition a lesson – for all the oppositions in Africa that oppose progressive development-oriented governments.
"This will be the final forty days charity for opposition in this country. I have been swearing and, of course, there will be areas that do not want development – they can vote for the opposition – that's their problem.
"This time around, it is very clear that if you vote against development; don't expect development," Jammeh said.
Ahead of the tour, leading political figures from the ruling and opposition parties in the country spoke to The Point yesterday.
"The tour ordinarily is one that is enjoined by the constitution that the President should meet the people, at least once or twice every year. It is a constitutional requirement, but we all know that the president does not go on this tour in order to fulfill the constitutional requirement that he is supposed to fulfill, but instead, he will use it as a political campaign," Lawyer Ousainou Darboe, party leader and secretary general of the opposition United Democratic Party, said.
Darboe, who will be running for the fourth time as a presidential candidate, come 24th November, added: "He said the last time that he is not going to campaign for the presidential elections, but he was just misleading the people. He is using this tour to launch his campaign for the November presidential elections.
"I can say that when you listen to his speeches during this tour, it will all be APRC this, APRC that. It is a misuse of resources for him to go on this tour, which will, no doubt, be used for political propaganda.
"I have seen at least 50 vehicles around Denton Bridge all set for this tour, but you can imagine the huge resources that will be spent on fuel, night allowances, among others.
"To me, this is a political campaign and nothing else," declared the opposition leader.
Hamat Bah, leader of the opposition National Reconciliation Party, NRP, also said it is a constitutional requirement for the president to go on this tour.
"In fact, the constitution states that he should tour the country twice at least every year if possible and, of course, the state has to sponsor the tour because it is a requirement, and there is a budgetary allocation for it.
"Unfortunately, he does not tour the country twice, probably he should explain why, but I believe that this is an important thing. Let him go and meet the people, let them express themselves or say what they want, and what they believe should be done.
"I only hope that he will not start the tour and it becomes a political campaign, which replaces his normal campaign for the November polls.
"This should not be a political campaign of the APRC. The president should go on this tour to listen to the people, their concerns and address them; inspect development projects, see where things have gone wrong, where they need to be corrected," Bah added.
According to Bah, who will also be running as a presidential candidate for the third time, it would be wonderful if that is done.
"So it is good that he is going on a tour to see for himself what is happening," he said.
However, in the opinion of Lamin Waa Juwara, leader of the  NDAM, one-time APRC critic and now Governor of the Lower River Region, there is nothing bad in that.
Juwara said it is a constitutional requirement that the President should meet with the people at least once every year, dialogue with them, listen to them, know their concerns and address them. "I don't think there is anything bad in that. It's all about democracy; these are the tenets of democracy.
"This meet-the-people tour will also avail the President the opportunity to assess development projects on the ground.
"The people here in the Lower River Region are all happy, and eager to see the arrival of the President. This is a very good opportunity which comes once every year.
"So for people to say that this is a waste of resources; they are talking rubbish, because you cannot separate development from politics," he added.
Read Other Articles In Article (Archive)