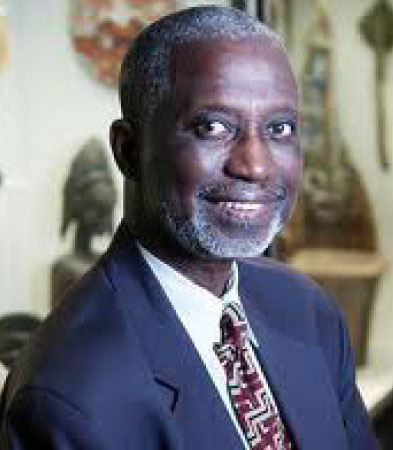 Dr. Sulayman S. Nyang is a professor and former chairman of the African Studies Department at Howard University in Washington, D.C. He joined the faculty of the African Studies Department at Howard University shortly after obtaining his Ph.D. in Government in 1974 from University of Virginia. Originally from the Repub-lic of the Gambia in West Africa, Dr. Nyang's career in academia, local, national and international service and activism spans more than 37 years.
At Howard University, he has been responsible for designing, developing and teaching courses on various topics in African and Diaspora Studies, particularly Is-lam, politics and philosophy. He has mentored and supervised the work of more than 200 graduate students and many more undergraduates both at Howard University and other institutions of higher learning outside the US. His prodigious corpus of publications on Islam, African political, cultural, social and development affairs in-cludes 11 books and more than 70 articles and monographs, such as: Islam in the United States of America (1999); A Line in the Sand: Saudi Arabia's Role in the Gulf War, co-authored with Evan Hendricks (1995); Religious Plurality in Africa: Essays in Honor of John S. Mbiti, co-authored with Jacob Olupona (1993); Islam: Its Relevance Today, co-edited with Henry Thompson (1990); Islam, Christianity and African Identi-ty (1984); Reflections on the Human Condition (1984); Ali A. Mazrui: The Man and His Works (1981). Since 2001, Nyang has been a regular contributor to the Washington Post's "On Faith" online forum where he has written many articles and think and opinion pieces, one of the most significant being a piece entitled, What Near Death Taught Me About Life, a reflection on his miraculous recovery from a serious cardiac arrest on May 31 2004. Embracing new technologies of knowledge dissemination, Nyang has authored many audio and visual recordings on various subjects, and made them available from sources such as Islamondemand, YouTube and iTunes.
A former Deputy Ambassador of The Gambia in Saudi Arabia with responsibility for seven Middle Eastern and North African countries, Nyang has served also as con-sultant to several local, national and international organizations, including the World Bank, the UN, the NAACP, and the DC School Board on their Timbuktu Project. He was the Lead Developer of the African Voices Project (1999) of the Smithsonian Institu-tion Museum of Natural History, Co-Principal Investigator of Muslims in the American Public Square Project, an initiative to foster greater understanding of Islam and Mus-lims in the US and an advising scholar for the award-winning, PBS-broadcast docu-mentaries Muhammad: Legacy of a Prophet (2002) and Prince Among Slaves (2007).
Nyang has an exemplary record of service as officer and member of the board of numerous organizations and scholarly journals. Among these: Chairperson, Africa/International Committee of the Montgomery County Chapter of the NAACP, Presi-dent of the Interfaith Conference of Metropolitan Washington (1996-Present), Vice President, American Council for the Study of Islamic Societies (Villanova University), President of The Center for Islamic Policy Studies (CIPP) based in Tyson Corner, Virginia, board member of the African Studies Association, the American Council for the Study of Islamic Societies, America's Islamic Heritage Museum, the Associ-ation of Muslim Social Scientists and Academic Advisory Council of the Center for Muslim-ChristianUnderstanding (Georgetown University, Washington, D.C.).
He has edited and served on the editorial board of many scholarly journals such as Journal of Islamic Studies, (Karachi, Pakistan), Journal of Islamic Social Sciences (US), Current Bibliography on African Affairs (US), Journal of Asian and African Affairs (US), Howard University Journal of Negro Education, Islam and Christian-Muslim Relations (Birmingham, UK), Journal of Islamic Law & Culture (US), Hamdard Islamicus (Pakistan), Journal of Peace (University of Peace in Addis Aba-ba), Islamic Horizon (Plainfield, Indiana), Message International, ((Jamaica, New York) and the Journal of Third World Spectrum (Washington, D.C, US).
A prolific and engaging lecturer and public intellectual, Nyang has delivered countless keynote addresses and participated in scholarly conferences, profes-sional meetings and community activities all over the world. In April 1997, he was selected by the Tannenbaum Foundation as a member of its "Dream Team of Scholars" participating in a conference, "Seeking the Religious Roots of Pluralism," in New York City, NY. He also delivered a keynote address at a conference at the White House under the sponsorship of the Center for the Study of the Presidency in April, 2003. Nyang is a regular presence in local, national and international media such as CNN, CNN International, Al Jazeera, BBC, many Islamic TV channels in the UK, Voice of America TV, C-SPAN TV and Radio, WHUT-TV, African Affairs program on local DC metro-area cable television channels, WAMU, WPFW and many other radio stations in the US, Africa, Europe and the Middle East.
Nyang is the recipient of many awards and honors from African and Islamic organizations in the United States of America . In 2007, he was given the honor to read from the Holy Quran at the Celebration of the Fiftieth Anniversary of Israel at the White House Rose Garden in the company of former President Bill Clinton, Vice President Al Gore and two representatives of the Jewish and Christian com-munities. He received a Life Time Achievement Award from the World Muslim Congress (July, 2007) and the Prince Waled Ibn Tallal Center for Muslim-Christian Understanding at Georgetown University, the American Muslim Alliance's "Dr. M.T. Mehdi Lifetime Achievement Award" at the 14th.
Annual National Convention (Malboro, Massachusetts, October 12, 2008), the "Muhammad Alexander Russell Webb Award" from the Zaytune Institute, Berkeley, California (2007), the Frank Snowden Award from the Interfaith Conference of Metropolitan Washington and "An Award for Academic Excellence and Service to Students" from the African Students Association, Howard University (2008). In 2009, Nyang was named one of the "500 Most Influential Muslim Scholars in the World" by the Royal Islamic Strategic Studies Center, Amman, Jordan, and the Prince Tallal Center for Christia Muslim Understanding, Georgetown University.
Read Other Articles In Article (Archive)