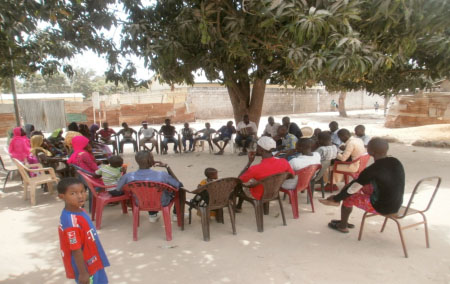 The Legacy, a youth-led non-governmental organisation, on Saturday organised a forum at Nema Day-Care Nursery School, Nemakunku, in commemoration of the International Day of the African Child (DAC).
The programme, attended by community and youth leaders, parents and children, was held on the theme 'Dialogue between parents and children'.
Speaking on the occasion, Bai Cham, a community leader, commended The Legacy for organising such a forum and urged parents to consider the resolutions taken at the end of the forum.
The secretary general of The Legacy, Sheikh Omar Sillah, said DAC is an international day that is commemorated globally to recall the 1976 uprisings in Soweto, South Africa, when black school children took to the street to protest.
They were protesting against the inferior quality of their education and demanded their right to be taught in their own language.Hundreds of young boys and girls were shot death by security forces during the protest.
Mr Sillah said The Legacy is not left behind in honouring the memory of those killed, and the courage of all those who marched.
The guest speaker of the occasion, Suwareh Jabai, speaking on the theme, said the relationship between parents and children is crucial to the development of young people.
He pointed out that parents should always keep an open and friendly relationship with their children as that is the beginning of a proper dialogue system between them.
"It makes no sense for parents to distance themselves from their children, instead they should always create room for their children to feel free to talk to them about any matter that is bordering them," Mr Jabai said.
He hailed The Legacy for organsing such a forum and advised the organisation to continue holding such.
Executive Director of The Legacy Saikou Suwareh Jabai said the commemoration of DAC is a true indication of his organisation's commitment to enormously contribute to the development and protection of children.
He said the commemoration is an opportunity to focus on the work of those committed to the rights of children on the continent to consolidate their efforts in addressing the obstacles for realising these rights.
He explained that The Legacy has organised series of capacity development programmes where the issues of child protection, rights and responsibilities were discussed.
"As a nation, we should always realise that the future of our country resides solely on the children who are the bedrock of any meaningful society," he said.
Director Jabai said the organisation will officially launch its sponsorship package for children going to school during its next year commemoration of the Day of the African Child.
"This package will include free study classes and other learning support materials," he said.
Read Other Articles In Article (Archive)