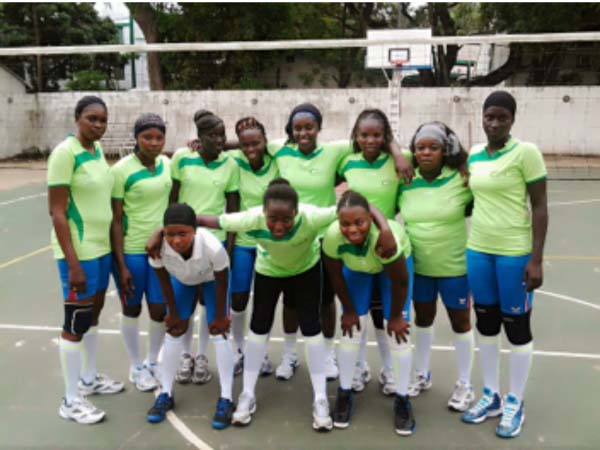 The finals were separately held among four teams. The first encounter took place between Gambia Armed Forces female volleyball team and Gambia Telecommunication giants Gamtel/Gamcel in which the khaki girls emerged champions after tearing off the blue girls by a 3/1 defeat in three rounds.
The blues began the game on a brighter move but were pushed down by the khaki girls.
Meanwhile, the Gambia Armed Forces female team went home with a giant trophy and a cash prize of 5,000 whilst the telecom giants pocketed home a cash prize of 2,000.
The second part of the event was fantastically held between four-time champions Old Jeshwang male volleyball team and The Gambia Armed Forces male team.
The game happened to be the most interesting encounter over the night, because both sides won two sets in a row, wherein Old Jeshwang bullied the khaki boys in the first two sets but the khaki boys bounced back over them and collected the second two. That led them to the fifth set of the battle.
Old Jeshwang males finally captured the 2015/2016 champions after a narrow defeat over the khaki boys in a 3/2 victory.
The winners Old Jeshwang male volleyball team went home with a giant trophy and a cash prize of D10,000 whilst the Gambia Armed Forces walked home with a cash prize of 3,000.
The head coach of the armed forces female team, Sargent Lamin F. Badjie, said he was happy about the victory, but claimed he was not a losing side, and thanked his girls for the "good work".
For his part, the head coach of the telecom giants said: "It's a game; I thank my opponents for the victory and hope to make a difference next time."
He further urged his girls, and co-technical workers to take the defeat in good faith.
For the male category, the coach of the khaki boys, Sheikh Omar Badgie, and the head coach of Old Jeshwang, Mr Mbye, both said the encounter was a game of win and loss.
The minister of the Interior, Ousman Sonko, in his remarks, thanked the Gambia Volleyball Association for its good work as well as both teams that took part in the finals.
He advised all and sundry to be more committed and disciplined in the game of volleyball, saying that without discipline they would not have attained the height they now have.
Minister Sonko says everyone has role to play in the socio-economic development of The Gambia.
He added: "We need to help the Gambia Volleyball Association, as every person has a role to play in helping the volleyball association, not only the executive."
The Gambia National Volleyball head coach, who also served as coach for Interior Volleyball team, Ebrima Nyass, was awarded the most discipline coach of the year by Olid Afric.
Read Other Articles In Article (Archive)