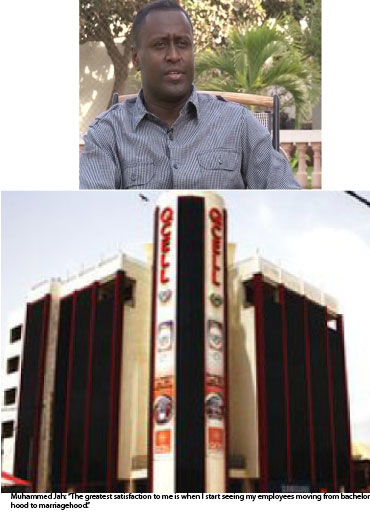 The Gambia's Muhammed Jah clearly remembers the day, in the late 1990s, when a friend told him that he was going to the airport to pick up a consultant who was coming to teach his department a word processing application popular at the time, WordPerfect.
"I said: 'How come we have a consultant coming all the way from Europe just to teach our people how to type a letter on a computer?'" Mr. Jah told the BBC's series African Dream.
"That was funny but serious to me, and there and then I decided that I was going to start teaching people computing."
QuantumNet, the company that he set in motion with four employees, now has more than 300 information technology (IT) professionals on its payroll and, according to his estimates, is worth around £100m ($156m).
For him that is no mean feat. After all, Mr. Jah - whose father was a school teacher - was the first in his family to go into business.
It all started when, having finished school in The Gambia, he got a scholarship to do a diploma in Islamic Studies in Saudi Arabia.
He says that although the stipend was very generous, he lived frugally and saved money - including the funds he had for holiday flights home - to pay his way through university.
He then read for a degree in Electronics and Communications engineering at the University of Sierra Leone.
When he returned to The Gambia he considered working as an engineer but then saw - thanks to his friend's illuminating trip to the airport - that there was an opening for computer entrepreneurs in the country.
No business plan
"When I finished my studies in Sierra Leone I had money left over from what I was saving in Saudi Arabia, and I also had a family loan, from an uncle of mine, but I remember I started my whole business with about $16,000 which enabled me to buy a few computers to start a training centre," Mr. Jah told the BBC Africa's Victor Okhai.
"My business instinct showed me that there was an opportunity so I quickly transformed myself from pure engineering to computing which is almost the same, so I did a few courses in computing to give to my people what I had learned.
"Though I don't have a PhD or a Master's degree in computing, at that time I didn't need that high level to teach people how to type or how to use Excel."
Mr. Jah said that he felt he had received so much from his country that it was time to give something back.
But when he started out, he did not have a business plan - "I didn't have time for that," he said.
"I went straight into the business, I bought some machines, I started training people, a lot of them for free because when you teach people for free, even though they're not paying you, they'll bring you people who will pay you."
In 2006 his training centre became the QuantumNet Institute of Technology which, according to Mr. Jah, is one of the biggest private institutes in The Gambia.
It offers a series of IT courses, from basic to advanced levels, including a diploma programme in Computing Science and Business Management, delivered in partnership with the University of The Gambia and Saint Mary's University, in Halifax, Canada.
From computers to cars
The firm, which was one of the West African country's internet pioneers, gradually expanded into selling products and became a distributor for companies such as Dell, Samsung, and Nokia.
"Two and half years ago, I decided to move into telecom proper by investing in the first 3G mobile telecommunication company in The Gambia which is QCell," the entrepreneur said.
QuantumNet is now a group of companies which has also gone into the car business - distributing, amongst others, Mercedes-Benz.
Mr. Jah - who has won a number of national and international awards, including Gambian Businessman of the Year three times - says that he tries to avoid borrowing money or using credit because interest rates are usually too high, often more than 20%, so he prefers to grow the business slowly and to add products when he can afford to do so.
"If I had the finance at the right price 20 years ago, I would have probably been where I am today 10 years ago.
But then, based on the type of person I am, I would rather reach my goal in 18 years than to fail in five years," he pointed out.
According to Mr. Jah, the biggest risk he ever took was venturing into the internet business because at the time The Gambia only had one telecommunications company (or "telco", as people in the industry call them), the state monopoly Gamtel.
"Overnight, you have this young boy - with no money - just deciding to compete [against] that telco in delivering internet services.
And, remember, the internet gateway was owned by that monopoly and I'm supposed to buy bandwidth from them and compete with them on the retail.
"But the government telco was operating on normal government working hours, from 8.30am to 4pm. For me, as a small internet service provider I was operating 24 hours and this is how we captured the clientele," he explained.
Marriage
He has not only competed with the government, he has also worked with it, in both a formal and an informal capacity, as an advisor on IT issues.
He sees this as part of the role of the private sector.
The Gambia now has 90% mobile phone penetration rate and a very good internet access.
A new internet cable is due to reach the country in October 2012 and Mr Jah's company has bought the most private shares in this public/private partnership.
This new venture is core to QuantumNet's expansion plans as the cable will improve internet speeds in the country and make things like video conferencing easier.
Mr. Jah believes there will be more opportunities for young Gambians to build businesses around the fast internet that the cable will provide.
He says that when he was starting out, it was "madness" for bright graduates like himself not to seek a job with the government since most opportunities were in the public sector.
Now most young people dream of setting up their own companies. Technology has changed everything.
The private sector has overtaken the public, and this is the way Mr Jah thinks it should be.
He would advise young people to be disciplined, honest and hardworking.
He says that the main challenges he faced at the beginning were social attitudes, like getting employees to come to work on time, to be well-organized and show good customer service skills.
He also points out that young entrepreneurs should start moderately so they can learn along the way. "Big mistakes can cost big," he says.
Mr. Jah, who this year is 43, speaks fondly of his younger employees.
"The greatest satisfaction to me is when I start seeing my employees moving from bachelorhood to marriagehood. When we meet at our yearly family parties I feel very good because I see that, with the small steps I have taken, I've managed to change a few people's lives, and I think I can do more."
African Dream is broadcast on the BBC Network Africa programme every Monday morning, and on BBC World News throughout the day on Fridays
Every week, one successful business man or woman will explain how they started off and what others could learn from them.
Read Other Articles In Article (Archive)