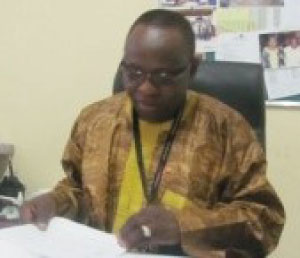 The Business Coalition Against HIV and AIDS (UCAHA) The Gambia, in collaboration with UNAIDS, on Thursday at the Paradise Suites Hotel held a day consultative forum to sensitize members of the private sector on HIV and AIDS response.
The forum was held to manifest the giant strides taken as a nation and to bring members of the private sector out of isolation to actively play their critical role in the responses to AIDS and how they can protect their own staff.
The theme of the forum was 'leading 'the business responses against HIV and AIDS in The Gambia" in a forum that brought together participants from various industries and sectors of the private sector.
Speaking at the ceremony, UNAID Country Director Nuha Ceesay said the forum with the private sector is critical to the role in the national response to HIV and AIDS, which has also made it historic because it is happening after a high level meeting on Universal Access where renewed commitments and bold decisions have been made to scale up efforts towards universal access and human rights for people living with HIV and other vulnerable groups.
Mr Ceesay said that over the past thirty years, AIDS has united the global community in a way that few other crises have, thus in The Gambia "this unity is clearly manifested through meaningful partnership with the government, civil society, multilateral, bilateral, the private sector, law enforcement agencies, individuals and societies of people living with the disease.
"AIDS galvanized grassroots community and civil society organizations, scale up prevention program, fought stigma and discrimination and ensured Universal Access to quality prevention, treatment, care and support services," Mr Ceesay said.
According to him, they witnessed the active involvement of public institutions in the implementation of the HIV prevention programmes for their staff and dependants, saying AIDS has generated new levels of solidarity for all and sundry.
"It has inspired innovations across a wide range of programmes all geared towards ensuring a preventive revolution to curb the further spread of the disease, ensure quality, accessible, affordable, and uninterrupted treatment, care and support services to restore hope, alleviate pain and end suffering among people living with HIV," he said.
He added: "We should also move a step further by knowing what works and why, and it is no longer acceptable if we fail to deliver and the achievements of the universal access should remain the fundamental priority for all actors including civil society organizations."
By achieving these goals, Mr Ceesay continued, "we can contribute to the broader development agenda by bringing AIDS out of isolation".
He said the multi-sectoral determinants of the epidemic demand dynamic and multifaceted responses that must constantly evolve to meet challenges and priorities.
"Our meeting here today is one of a series of in-country follow-up actions that UNAIDS will be making to raise awareness on the renewed commitment to scale up universal access to HIV prevention, treatment, care and support and the critical role that the private sector should play in achieving universal access," he concluded.
Read Other Articles In Article (Archive)