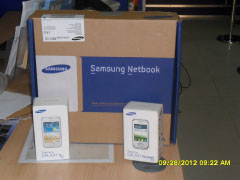 Bank PHB last Friday held its third weekly raffle draw at its Kairaba Avenue branch. Some fifty-one customers participated in the draw, which ended with presentation of prizes to lucky winners.
Explaining about the draw procedures, Muhammed Jallow, chairman of the ceremony, told customers present that any customer who deposited an amount of D5,000 to D25,000 will be automatically qualified for the draw.
Such customers if lucky in the draw will be given a Samsung Galaxy pocket phone as first prize, he said.
He further revealed that those customers who deposited from D25, 000 to D100, 000 would win Samsung Galaxy ACE mobile phone as second prize and from D100, 000 to D1,000, 000 will win a Samsung mini laptop as third prize.
"For Bank PHB we have different prices for each week and we had given out numerous prices to our winners for the past draws held here," he said.
However, if the savings days is below sixty, one will not be qualified for the draw, he said, adding that if the money stays at one's account for a minimum of sixty days one is qualified to take part in the weekly raffle draw.
"Today is not the end," he told customers, saying it will continue until 8 January 2013. 
"We are encouraging all of you to continue saving with Bank PHB," he said. "Keep your tickets for the next weekly raffle draw because by the time we reach at the grand raffle draw everybody who participated in the past draws would be lucky to become a winner." 
Meanwhile, at the end of the draw, Samba Joof, holder of ticket number 0031, won the first prize - a Samsung Galaxy pocket phone.
The second runners-up prize went to Sira Jallow, holder of ticket number 0234. Jallow has also won a Samsung Galaxy ACE phone.
The third prize was won by Wakka Mass Mbye, with ticket number 0027 and went home with a Samsung mini laptop.
Read Other Articles In Article (Archive)