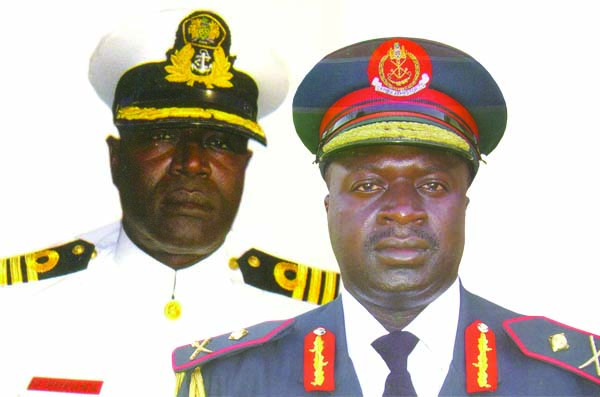 Justice Ikpala of the Special Criminal Court on Tuesday ruled that the former military chiefs, Lt. General Lang Tombong Tamba and Rear Admiral Sajor Fofana, have a case to answer.
This followed a no-case-to-answer submission filed on their behalf by their defence counsel, and the reply filed by state prosecutors.
Tamba and Fofana are being tried on four counts of treason-related offences in connection with the 21st March 2006 abortive coup attempt, allegedly spearheaded by former chief of defence staff Colonel Ndure Cham.
The charges include conspiracy to commit treason, treason, and concealment of treason, which both men have denied.
Justice Ikpala in delivering the ruling told a crowded court room that the prosecution had established prima facie case against the accused persons, and called on them to enter into their defence.
Justice Ikpala while summing up his ruling analysed the written briefs filed by both the prosecution and the defence on the no-case-to-answer submission, and subsequently ruled that the prosecution has a case against the accused persons.
Tamba and Fofana are now expected to open their defence on 23rd February 2011.
The prosecution in order to prove its case against the accused persons had called six witnesses, including Major Momodou Alieu Bah, previously convicted for treason, but subsequently pardoned and reinstated in the army, Modou Manneh, a security operative, Timothy Sanyang, a senior military officer, Momodou Sowe, a police officer attached to the major crime unit of the police force who narrated how he obtained cautionary and voluntary statements from the accused persons, ex-Captain Bunja Darboe, and Yahya Darboe, all presently serving life sentences, for their part in the 2006 coup attempt.
During court proceedings, the prosecution led by Daniel O. Kulo also tendered the cautionary and voluntary statements of both accused persons as exhibits.
General Tamba, it would be recalled, was convicted and sentenced to death on 15th July 2010 for treasonable offences along with seven other men at the High Court in Banjul.
Rear Admiral Fofana was the president of the General Court Martial that convicted and sentenced 10 men to various prison terms, ranging from 10 years to life imprisonment, for their roles in the 2006 coup plot.
Both defence counsel SM Tambedou and L.K. Mboge were present, as well as the state prosecutor at the time the court delivered its ruling.
Tamba and Fofana were escorted to and from the court by heavily armed security officers, and were shackled and handcuffed.
Read Other Articles In Article (Archive)