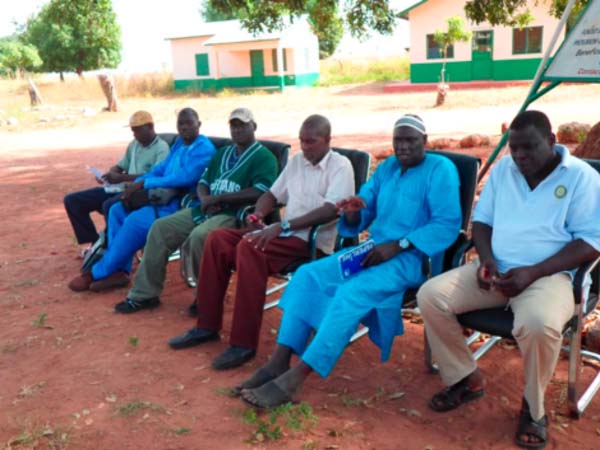 The Regional Agricultural Directorate with support from Sustainable Land Management Project (SLMP) held a two-day capacity development of core disciplines of Multidisciplinary Facilitation Team MDFTS on concept of SLMP,'
This included roles of soil and water conservation, overview of Gambia soil, intergated watershed conservation management methods, roles of MDFTS in Extension services, range land management, crop livestock intergation, causes and consequences of watershed deteriotation, and community mobilization techniques and participation.
The two-day training was held at Chamen Agricultural and Seed Multiplication Centre in the North Bank Region.
In his remarks, Alasan CMB Bah, acting-Regional Director for North Bank Region Agricultural directorate, noted that the roles of frontline extension workers in guiding and transfering best agriculutral practices to enhance sustainable land management to bring about an increase in food production.
He said the protection and preservation of watershed management would increase farm production and improve soil nutrient.
Mr Bah noted that sustainable land management is crucial to supporting producitive resources, adding that as change agent, SLMP attached great importance to supporting farmers to adopt best practices.
The NBR Agric boss thanked farmers for adhering to advice provided by extension workers in diversifying food production, citig in the adotpion of sesame, cowpea and horticultural production to enhanc food production and productivity.
Miki Jawla, SLMP field coordinator for NBR, LRR and WCR, said the project is committed to sustainable land management to preserve and enhance food production.
He said the project also aims at empowering farmers to take the lead in the upkeep and management of land.
He called on the youth and women to utilize capital simulation fund at NEMA to increase food production and contribute to poverty reduction.
He said the intergated Watershed Conservation management methods technique would contribute to promotion of natural resources to enhance sustainabel development.
Momodou Darboe, Regional Livestock Officer, said there is need to Intensify field garden/ pasture deveopment for livestock.
He said the training would support in the redemarcation and identification of cattle tractto ensure both crop farmers andherders reach mutual understanding.
He called on farmers to always promote animal welfare, as stipulated by the animal welfare act.
The encoruaging of animal tract is a violation, he said, calling on crops farmers to be vigilant.
Sana Singhateh, focal person for Sustainable Land Management Project (SLMP) for North Bank Region, spoke of the importance of building capacity of frontline extension workers and farmers on the effective management of natural resources to enhance production and productivity.
The two-day training of the Multidisciplinary Facilitation Team looked at sustainable land management and how support could be given to the transfer of best agricultural and environmental practices of forest to boost production.
NBR SLMP focal point noted that Integrated Watershed Conservation management methods, rangeland management, crop livestock integration, causes and consequences of watershed deterioration, community mobilization techniques and forest protection and preservation are fundamental in attaining national development.
He called on farmers to work closely with the MDFT on management of the forest resources and also plant food trees on farm boundaries. 
Read Other Articles In Article (Archive)