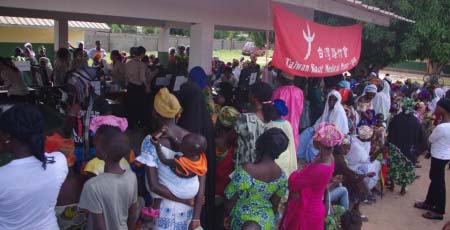 Taiwan Root Medical Peace Corp (TRMPC) recently dispatched a team of forty medical, nursing and volunteer personnel to The Gambia from 7 to 18 August 2013.
During their stay in the country, the team members successfully completed their mission of rendering medical service at Jammeh Foundation for Peace Hospital from 8 to10 August, Brikama Major Health Centre from 12 to14 August and Brufut Health Centre from 15 to17 August.
During the mission, about 4,800 patients received the medical service from the team.
It could be recalled that this is the third time the TRMPC has come to The Gambia after 2003 and 2010.
The visit demonstrates the long-standing commitment of both the governments of the ROC (Taiwan) and The Gambia to promote the well-being of people in The Gambia.
The TRMPC team received warm welcome from the Gambian people in all the places they provided the medical service.
Founded by Dr Chi-Chun Liu in 1995, the TRMPC is a non-profit organization dedicated to improving the quality of life of people through provision of medical services and health education.
Inspired by the core value of "Time for Taiwan to feed back its love to the world", TRMPC has already achieved 275 missions either at the local communities in Taiwan, or through dispatched overseas medical service teams.
The Embassy of the ROC (Taiwan), in collaboration with the Ministry of Health and Social Welfare and the above-mentioned hospitals, fully supported the delegation of the TRMPC during their stay in The Gambia, even on the day of Koriteh.
Read Other Articles In Article (Archive)