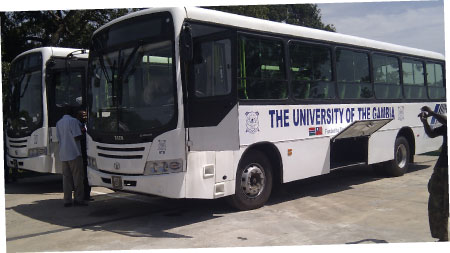 The Government of the Republic of China on Taiwan (ROC) through its Embassy in Banjul yesterday presented equipment worth US$ 225,256 to the University of The Gambia's Science, Technology and Innovation campus in Farababanta.
The presentation was held at the Farababanta campus, and saw the handing over of two new 60-seater capacity buses and the opening of a computing centre with 54 new computers to be the University Park.
In his statement at the ceremony, Samuel Chen, the Ambassador of the Republic of China on Taiwan, said that the move came during their President's visit in to The Gambia in April this year.
According to him, the Taiwanese head of state knows the needs of the University of The Gambia, particularly transportation and computing equipment, which, he noted is the basic need for the development of a science park.
Noting that education is part of national development, Ambassador Chen expressed hopes of a close collaboration in the process. The Taiwanese diplomat commended President Jammeh for sending Gambian students to study in Taiwan.
"This is a very important process in developing your human resources for higher education," said Ambassador Chen.
Dr Momodou Tangara, Minister of Foreign Affairs and Chairman of the Governing Council of the UTG, said that this was a significant milestone in the development of education in our country.
He thanked Ambassador Chen and Vice Chancellor Professor Kah for soliciting such assistance, noting that the best way of investing in a country is through investing in its human resources.
According to Dr Tangara, the latest gesture is a renewed commitment of partnership between Banjul and Taipei.
He stated that the inauguration of the science park in Farababanta is a clear manifestation of the government's interest in science and technology.
While buttressing on the importance of research, as well as science and technology, Dr Tangara noted that as a governing council, they will not relent in that process.
Fatou Lamin Faye, minister of Basic and Secondary Education who is currently overseeing the Ministry of Higher Education, Research, Science and Technology noted that all efforts have been made to move education in the country.
She urged the people to take the university as their own, noting that it is in our interest to move the agenda.
She also called on all sectors to put their hands on deck to make the university what they wanted it to be.
Professor Kah expressed gratitude to the Taiwanese government for the gesture.
The UTG, he stated, is the hope and future of The Gambia.
Read Other Articles In Article (Archive)