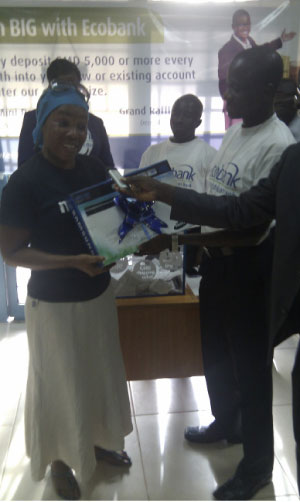 Five customers of Ecobank Gambia Limited Wednesday emerged winners of the first raffle of the bank's "Deposit Mobilization Campaign."
The draw was held at the bank's head office along Kariaba Avenue.
The first winner, Alieu B Manner, won himself a bag of rice, Abdou B Touray won a bag of sugar, One Bai Njillan also went home with a 20 liter gallon of cooking oil, Marry Michelle Toe, also a customer won a DVD player while Tumbudu Jallow, also a customer, won himself a D5000 shopping voucher.
Speaking to reporters in an interview shortly after the draw, Kebba Gaye, Head of Corporate Banking Ecobank Gambia, said the initiative was initiated in the middle of this year by the Ecobank Group and all Ecobank affiliates are part of the campaign.
"The basis for any bank to survive is to have as much deposits as you can. In the same line, we thought it very important to have the campaign towards the end of the year so as to mobilize deposits for the bank and also as a way to say thank you to our customers," Gaye stated.
He revealed that there will be another raffle draw by the end of November, which will be followed in December by the mega draw.
Asked the reason behind the bank's successes over the years, Gaye said this is not only in the Gambian market but the brand, mission and vision of the bank since its inception.
Noting that the bank first started in a few countries, Gaye revealed that Ecobank is currently operating in 32 countries in Africa.
He urged customers to remain focused and stay with Ecobank, noting that the initiative is a continuous process, and that at Ecobank, they always look at ways of trying to add value to the lives of people and give back to society.
Elias Bah, head of SME & Microfinance, said the raffle was a way of recognizing their customer's patronage and the trust they have in them.
According to her, everybody is a winner in the sense that by building a solid relationship with the bank owned by their very own people.
While urging their customers to continue depositing with the bank as the campaign is an ongoing process, Bah noted that the banking sector is tough.
However, she added, "Ecobank is not in competition because we believe Africa is our strategy, and here we are going to stay."
Winner upon winner who also spoke to our reporter expressed gratitude to Ecobank for the benevolent gesture.
Read Other Articles In Article (Archive)