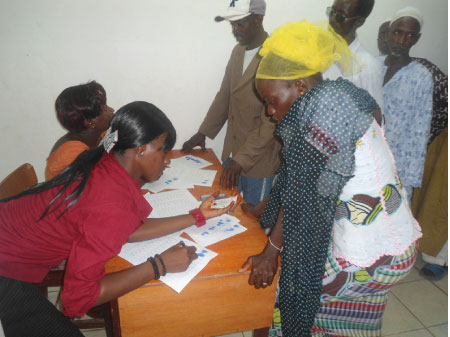 In response to The Gambia's emergency response programme food crisis 2012, Oxfam America has provided funds through Concern Universal to lessen the effects of the food crisis on the most vulnerable people in Kombo South district.
TARUD, the Trust Agency for Rural Development on Wednesday 31st October 2012 commenced a three-day distribution of hygienic materials to 15 communities within the Kombo South district.
The program was being coordinated and implemented by TARUD in partnership with Concern Universal.
Speaking at the ceremony held at the TARUD head office in Gunjur, Sandang Bojang, programme director TARUD spoke at length on the importance of the exercise, adding that it went go a long way in meeting the needs of the beneficiaries.
According to him, materials distributed to communities worth D300, 000 and cash for food would be equally donated to the 441 selected family heads from 15 villages in Kombo South.
"These are people who were mostly affected by looming food crisis caused by shortage of rainfall in 2011 in The Gambia. Each targeted family will be given D4000 each, and this will be in two slots (D2000) per slot and this will sum up to D1,764, 000 to be shared among 441 families within the district," he stated.
This, he added, will also be followed by a hygiene promotion programme through Radio Janneh Koto in Gunjur for weeks.
Faburama Darboe, disaster risk reduction focal person for TARUD, said the intervention came as a result of a proposal sent to their partners to respond to the call made by the government on the 2011 crop failure.
According to him, they wrote a proposal to Concern Universal, which through their partner Oxfam in USA provided the support to TARUD for onward distribution of the relief materials to the beneficiary communities within the Kombo South district.
He commended Concern Universal for their unflinching support.
Manfred Bojang, disaster risk reduction project manager at Concern Universal, stated that Concern Universal is a donor organization working directly with implementing partners such as TARUD in the area of micro finance, livelihood, water technology, agriculture among other areas.
According to him, TARUD comparatively has higher chances of partnering with many development partners, because they are well experienced in all these areas, and it is situated in the peri-urban area and is unique and strategic in terms of implementing programs and activities within the area.
"What has been witnessed here today is the distribution of hygienic and detergent materials to 441 families within the district, and this will last for three days and will be followed by cash donation to the same families in a few days to come", he added.
Read Other Articles In Article (Archive)