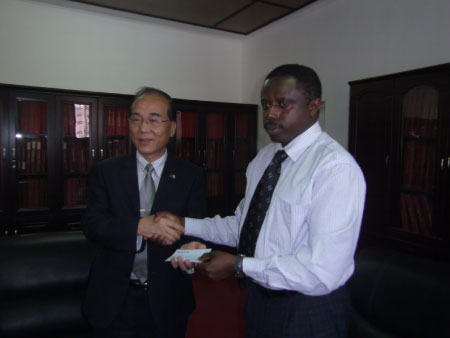 The government of the republic of China on Taiwan, ROC, is showing no sign of relenting in its quest to complement the development efforts of the Gambia government.
The most recent manifestation of that was the donation of US$ 805,755 equivalent to over 26 million dalasi for the rehabilitation of the Gambian Old Police Line Barracks (additional works).                 
The ROC ambassador to The Gambia, Samuel Chen, handed over the cheque to Noah Touray, Secretary to the Cabinet, who received it on behalf of Dr. Njogou Bah, minister for Presidential Affairs and Secretary General, Office of The President, in Banjul.
Speaking at the handing over ceremony, Ambassador Chen said he was pleased in making the presentation on behalf of his government, and felt honoured to be part of the contribution to promote the welfare of the Gambian people.
The financial support is to be used for renovating the Old Police Lines dormitories in Banjul to improve the living condition of police officers, Chen said, further noting that the police have a great responsibility to ensure peace and stability in the country.
According to the chief Taiwanese diplomat, the police work on the front line to protect properties and welfare of Gambian people, sometimes facing dangers and violence.
"The project is accordingly crucial to meet with the target of the UN's MDGs," he said.
In receiving the donation on behalf of the Gambian government, Mr. Touray expressed appreciation to the ROC government and people for the continuous support to the Gambia's socio-economic development.
The minister of the Interior, Ousman Sonko, who witnessed the presentation ceremony, said the assistance would help to promote the welfare and morale of the police force, as well as enhance quality service delivery and for the police to better serve the people. Sonko also thanked the ROC (Taiwan) government for the warm friendship and kind gesture.
The project had been funded US$1,500,000 by ROC (Taiwan) last year for rehabilitation of the main part of Old Police Lines.  The whole construction is under the supervision of Ministry of Works, Construction and Infrastructure and is expected to be completed by the end of October 2013.
Read Other Articles In Article (Archive)