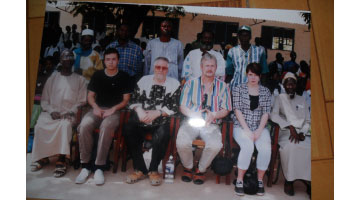 The Chairman of Sukuta Moomerland Circle Friendship Association (SMCFA), Mr Schneider, has promised the management of Sukuta Upper Basic School that his association will provide more educational support for them in the next twenty-five years to come.
Mr Schneider, a retired teacher based in Germany, said his association has a membership of fifty-five people out of which he came with nine members to The Gambia.
Mr Schneider made the pledge on Tuesday during an exclusive interview with this reporter at his BB Hotel residence.
Also present at the interview were his members Mr Serhard Hueser and Mr Wilhelm Oncken.
He said his association started partnering with Sukuta Upper Basic School in 1988 and since then they have provided nearly D3 million both in kind and in cash to the school.
According to him, their first partnering school in The Gambia was Sukuta Lower Basic School (in 1985), who were partnering with Moomerland School in Germany.
He revealed that when they started the partnership with Sukuta Upper Basic School there were only two government buildings at the said school but now thanks to Moomerland Association they have been able to construct 25 buildings for the school.
Mr Schneider said that in 1995 two former staff of Sukuta Upper Basic School visited Moomerland, revealing that throughout The Gambia they are supporting only Sukuta Upper Basic School.
"We believe that by supporting Sukuta Upper Basic School, we are supporting the entire people of The Gambia," he said.
He said that part of their plans is to build vocational training institute, IT lab, a library room and complete the construction of the assembly hall.
The Principal of the school, Sarja W.D. Sanneh, also spoke to this reporter about the development undertaken by Sukuta Moomerland Circle Friendship Association since 1988.
He acknowledged the numerous forms of support being rendered to the school by the association.
"They have registered huge developments in the school key among them are the electrification of the school, installation of  telephone services, furnish the school buildings and rehabilitating the library," Mr Sanneh said.
He described the link as very fruitful for both the communities of Sukuta and Moomerland in Germany. 
Principal Sanneh further said that the association has contributed immensely to the development of the school, especially in the infrastructure and academic aspects of the school.
He commended the association through its Chairman, Mr Schneider, for constructing his school's home science lab, resource centre, administrative and technical blocks, which he said has helped greatly in the improvement of the school
Read Other Articles In Article (Archive)