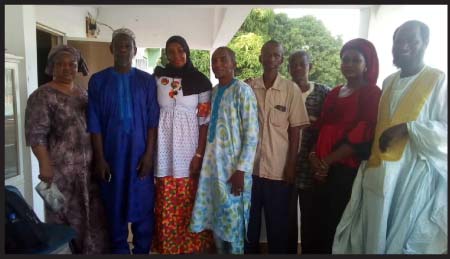 Members of 'Tabital Pullaagu' Gambia Association; a group of Gambian Fulas has denied what he called claims by some people that their planned meeting with President Barrow was politically motivated.

The Association's executive members said on Sunday, that those against their meeting with the President are mainly members from the Gambia Democratic Congress (GDC) and hold positions in the party, saying the membership of the association have nothing against their meeting with the President.
Public Relations Officer Alieu Saja Jallow said only few people are against their move to meet with the President and those are all affiliated to GDC, naming some of them as Alagie Jallow Jawo – an adviser to GDC, Modou Bah also from GDC responsible for logistics, Alieu Jamanka – a GDC chairman in Banjul, Sara Jawo – a chairman of GDC in Jimara, Alagie Sowe – a national assembly member for GDC, Omar Bah – an organizer to GDC in Badibou area, Sutura Jallow an adviser to both GDC and 'Tabital Pullaagu" and Abdou Bah, both advisers to the association and GDC.
He added that both Sutura Jallow and Abdou Bah, from Youna village have received motor bikes from the GDC party. "The President has not invited us to a meeting. We wrote to the President requesting to meet him. The President has not requested to meet 3000 Fulas as claimed," he said.
Kassum Jallow, assistant secretary-general said their meeting with President Barrow has no link with politics, saying their executive came to being after a national congress sometime in February 2019, wherein delegates came from different parts of the country and was overseen by the Independent Electoral Commission (IEC) oversee the elections.
He said the association was registered and has been in existence even before President Adama Barrow was elected into office. "The rumour that President Adama Barrow requested us to mobilise 3000 Fulas to a meeting at the State House is not true. We requested to meet President Barrow and he has never written or requested to meet us," Jallow averred.
He said "Tabital Pullaagu" cannot be a political party and they have no political agenda, stressing that their mission and vision is to promote the welfare of our membership.
Alagie Seedy Dem, President of the association said he requested to meet the President to discuss with him the challenges that his people are facing with so that he can support them.
He said he did discussed politics with the President but he never mentioned anything related to politics to him. He said their discussion was centered on their association on what they are facing. "He is our President and we have all rights to meet him to tell him our problems," Dem said.
Mr Dem called on the people planning to disrupt the unity of the members of the association to cease because the unity of their membership is strong. "We were elected in a national congress in February 2019 to serve our people and that is what our executive will continue to do," Dem concluded.
Read Other Articles In Article (Archive)