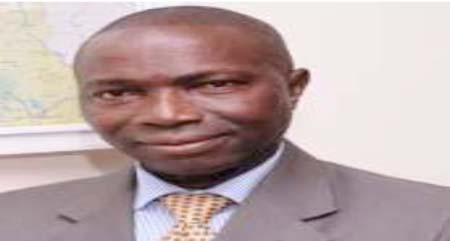 Gambai's banking system remains fundamentally sound, well-capitalized, profitable, and highly liquid, first Deputy Governor of the Central Bank of the Gambia, Dr. Seeku Jabbi said on Saturday.

Delivering a statement at the 4th Annual Bankers Dinner celebration at Qcity in Bijilo, Dr. Jabbi said the non-performing loans ratio declined to 2.3 percent at end-June 2019 -the lowest in the region- thanks to improved risk management in the industry, effective loan recovery measures and smart regulation.
He also stated that financial intermediation continues to increase with strong private credit growth of 35.8% as at June 2019.
The forum brought together managing directors of various banks, financial experts, bank staff, government officials, and the private sector to celebrate the success of the Gambia Bankers Association. It was held under the theme: Private Sector participation in National Development.
According to Dr Jabbi, risk-weighted capital adequacy ratio stood at 31.7%, well above the statutory minimum of 10%, saying all the 12 banks maintained minimum level of capital and required reserve levels. "Deposits grew to an all –time high at 31 billion dalasis at end June 2019, representing 62.6% of total liabilities and grew by 6.34 billion dalasi from June 2018, signifying key source of funding for banks."
He also disclosed that the foreign exchange market continues to remain stable and functioning smoothly due to increased confidence in the economy and improved supply conditions. He said the exchange rate of the dalasi continues to be supported by inflows from private remittances, higher receipts from tourism, and official inflows from development partners.
Nona Marena, President of Gambia Bankers Association said during 2019, the Association made significant strides toward achieving its objectives; one of which is the establishment of a standard Institute. "We have also turned our financial performance around from a heavily indebted association to one that seamlessly meets its financial obligation without resorting to bank loans and overdrafts," he said.
In his official opening statement, Trade Minister Lamin Jobe thanked the Association, observing that the forum was meant to celebrate their success and rewarding performance.
He reminded bankers that as players in the financial services sector, they have the opportunity to transform and to make banking an industry where everyone can have a fair and equitable opportunity to meaningfully participate in national development, regardless of tribe, gender, age , disability, geographical region and social class.
"We strongly believe that your innovative capacities, human resources, know-how and technological inputs can leapfrog the Gambia's development and help us catch up with our competitors."
Certificates were awarded to individuals who have contributed toward the success of the association and also students who graduated at their institute of banking received certificates as well.
Read Other Articles In Article (Archive)