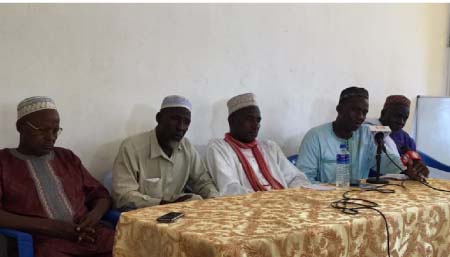 Sutura Jallow, an adviser of Tabital Pulaagu Mbo Gambia, an association of Gambian Fulas has claimed that President Adama Barrow wanted the Association to support him by mobilising about three thousand Fulas countrywide to meet him at state House.

"Barrow told the association President that majority of Gambians who elected him were Mandinkas and Wollof but now it is like those people are trying to abandon him. Therefore, he is counting on the support from Gambian fulas," Mr Jallow told journalists during a press conference at the Independence Stadium on Saturday.
He said the aim and objectives of the Association is to bring the Fulani people in the country together to promote unity among them and not to involve in politics. "How can we go around to mobilize fulas, alkalos, imams and chiefs just to bring them and meet Barrow?"
He said they have invited President Barrow to brief him on the outcome of their congress on three ocassions but he failed to respond, saying when their President told them that the President wanted to meet the Fulas, they asked him why and his answer was that President Barrow is a Fula and wants to see how he can work with them.
Mr Jallow said they declined to honour the invitation because the Association was formed to contribute to the stability in the country, saying Mr Barrow said that it was the Mandinkas who made him president but he could not pull with them anymore and now want to create space to work with the Fulas. "We did not buy that idea because Gambia is a small country where everyone is connected to everyone."
According to him, their president Seedy Dem said every Fula chief and Alkalo in every region should come together and mobilise at least 3000 people to come to Statehouse for a meeting but they told him that that was against the constitution and creation of the association and they are not established to support any political cause.
Mr Jallow reminded Gambian Fulas that they are not 'roasted' groundnuts that one can buy and put in his pocket and be chewing while going. He also challenged one Mamadou Kandeh who he said has promised that he would provide the 3000 people to hold a meeting with President Barrow, saying they wanted to work with Kandeh but because his focus is politics, they cannot pull with him.
"We respect President Barrow as the leader and as the President of this country today and we don't want to do anything against the law but we are not doing anything that is against The Gambian law," he said.
He said they brought a budget of more than 700, 000 dalasis for the meeting but that never changed their position because that does not commensurate with the idea of establishing the association.
Read Other Articles In Article (Archive)