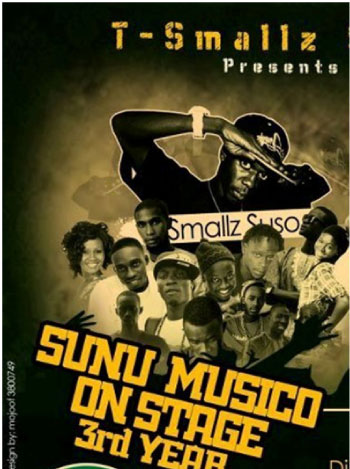 T Smallz Susso, a young Gambian artiste making name in the Gambian music industry, has just returned from a European tour.
He told reporters at the Banjul International Airport shortly after his arrival that he went to Holland, Belgium and Germany.
He said his mission this time around was to connect with other producers and people connected with music.
T Smallz said going out for the tour has given him better experience to deal with some more experienced people in music.
That was a bigger platform for him, he noted, saying he learned a lot during the tour.
The young Gambian musician also said the tour has given him more courage to carry on with his career as an artiste.
He told journalists that the whole project came from a Holland-based band interested in working with him.
He was only hoping to work with the band and be recording with them but later things went beyond that, he said, adding that they later told him he should be the lead vocalist of the band.
This offer would soon be materialised, he said, adding that he is to meet with the band for another discussion in September.
T Smallz added that in the process he was able to link up with other people who deal with music in Europe, which also created opportunity for him to deal with lots of presenters and DJs whilst in Europe.
He said: "I have a deal with a record label called 'I Dobs'; they have produced artistes like Jinjah, Natty King, Queen Africa and many more big artistes.
"They have got rhythm they have recorded and I am part of some of the rhythms that will be released in the next few months and those rhythms will be worldwide.
"This is showing me that Gambian music is going to the next level and I will do my level best to take this industry to higher levels."
The young artiste, whose trip took him two weeks moving between Holland, Belgium and Germany, recalled some months back he went with some other Gambian artistes to the UK for a concert.
He said that at the moment he is still working on his planned projects.
Asked how the West reacted to his music, he said: "To be honest they were really amazed at my style of music. Most of the producers and promoters told me they were glad that a talent like this is from The Gambia. This simply tells you that we are getting to the standard many people are whishing Gambian music to get."
T Smallz, on a final note, said he would like to thank all his fans for being there for him, especially for the manner and way he was welcomed and received at the airport, thanks to all the authorities who are facilitating all his travelling.
He also thanked his parents for helping him to be where he is today.
Read Other Articles In Article (Archive)