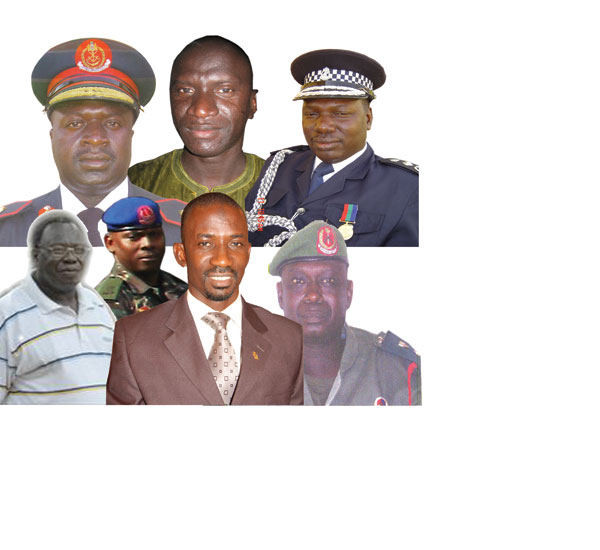 A five-member panel of judges of the Supreme Court of The Gambia chaired by chief Justice Emmanuel Agim yesterday adjourned the appeal case involving the jailed former chief of defence staff, Lt. General Lang Tombong Tamba, and six others, for ruling.
This followed the adoption of briefs by both the appellants and the state respondent.
The other appellants are, Brigadier General Omar Bun Mbye, former director of operations and training at GAF, Col. Lamin Bo Badjie, former chief of the NIA, Modou Gaye, former deputy IGP, Gibril Ngorr Secka, former deputy Gambian Ambassador to Guinea Bissau, Lt. Col. Kawsu Camara (alias Bombardier) former Commander of Kanilai Camp and Abdoulie Joof, businessman.
When the case was called, the appellants' counsel, S.M. Tambadou, told the court that he had filed a notice of motion based on the appellants reply on points of law, which he had served the respondent and he wished to make an amendment on ground one.
Counsel adduced that the motion was dated 12 October 2012, pursuant to rules of the Supreme Court  Act, adding that the appellants filed a 9-paragraph affidavit and they were relying on all the paragraphs, particularly paragraph 4,5,6 and 7.
He then applied for his briefs to be adopted and the appellants' amended briefs dated 12 October 2012, was adopted accordingly without any objection from the respondent.
The Director of Special Litigation at the Attorney General's Chambers, Daniel O. Kulo, also informed the court that he had filed an additional brief of argument dated 15 October 2012, and had served the appellants.
He also applied to adopt the respondent briefs and the additional briefs as their argument.
The case at that juncture was adjourned to 19 October 2012, for ruling.
It would be recalled that the appellants were sentenced to death by the High Court in Banjul on treason charges on 15 July 2010.
They then appealed against the high court verdict before a three-member panel of judges of the Gambia Court of Appeal that dismissed the appeal in April 2011.
Readers would also recall that the convicts were arraigned at the High Court in Banjul on 19 March 2010, and that the trial commenced on 22 March 2010, and lasted for nearly five months.
The indictment stated that the accused persons between January and December 2009 procured arms, ammunition, equipment and mercenaries from Guinea Conakry and other places to stage a coup and overthrow the democratically-elected government of The Gambia.
Read Other Articles In Article (Archive)