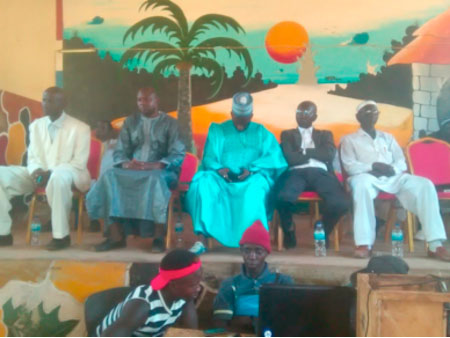 Kaur Senior Secondary School has introduced Information and Communication Technology (ITC) system as a classroom tool for teaching and learning, seeking to expose students to ICT, the global world and the required skills.

The project which was launched over the weekend, brought together top government officials, including representatives of the ministry of education and principals across the region.
Deputy permanent secretary of the Ministry of Basic and Secondary Education, Adama Jimba Jobe, described ICT as a crucial role player in the society, saying "we cannot achieve much in the absence of ITC."
He reminded students that the initiative is a good opportunity for them to make the best of, encouraging them to focus on their education in order to produce good results.
Mr Jobe urged the community, school management and teachers to work hard to help the students so that they can produce the best results.
Mohamed Lamin S Darboe, principal of the school explained that the purpose of establishing schools is to collect and preserve creative thoughts and intellectual adventures, protect human civilisation from both past and the present, to deepen the skills and knowledge as needed by the society, and to produce thinkers who can move the world forward on the path of human development.
He said schools are custodians of inventors of new ideas in science and technology that contribute to innovation and exposing the students to knowledge.
According to him, schools in the city either has easy accessibility to ITC facility in school or elsewhere but unlike the students in provincial areas, which creates a gap between the students in the city and those in the rural Gambia.
"In our endeavour to close the gap and to enhance teaching and learning in the school, the school has now introduced ICT as a tool for teaching and learning in every classroom instead of chalk and blackboard," he said.
Mr Darboe urged students to make the best use of the initiative by conducting research and finding useful information as the world is advancing through technology.
Representative of region five education directorate, one Mr Conteh thanked the school for the initiative and advised students to make the best use of ITC for research and other education purposes.
Read Other Articles In Article (Archive)