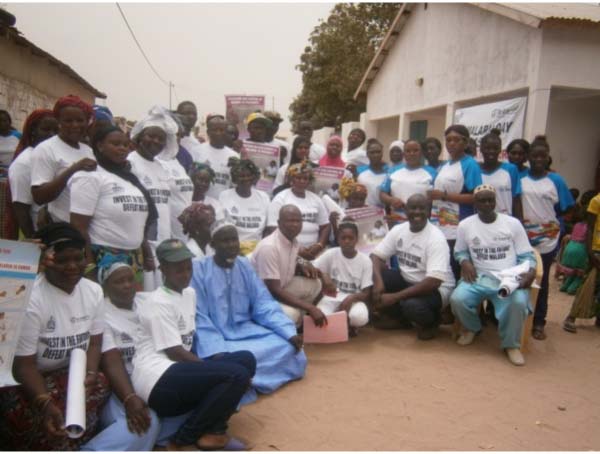 Sukuta-medina Development Association in collaboration with Niamina Youth Association Against Malaria (NYAAMA) on Sunday celebrated the World Malaria Day atSukuta-medina village in Kombo North.
The event, supported by the National Malaria Control Programme (NMCP), was held on the theme "Invest in the future to defeat Malaria".
The celebration took the form of a massive cleansing exercise within the streets of Sukuta-medina under the coordination of Master Jabbi.
Speaking on the occasion, Ebrima Danso, secretary general of NYAAMA, said the association embarked on the exercise cognizant of the fact that environmental cleanliness is one of the most effective tools in the fight against malaria.
He said there is no better way to celebrate world malaria day than communities actively embarking on the exercise to cleanse the environment of breeding sites of mosquitoes.
Mr Danso said that in addition to cleansing, people should make sure that they sleep under mosquito-treated bed nets.
All major and minor health facilities in the country give bed nets free of charge to pregnant women and children under five years.
The secretary general of Sukuta-medina Development Association, Muhammed S. Jabbi, commonly called Master Jabbi, said everyone should endeavour to make their environment clean before the commencement of the rainy season because that can greatly help in reducing mosquitoes.
Also the principal of Brufut Upper Basic School, Master Jabbi, said health experts have said the best way of controlling malaria is to make the environment clean.
"This is why this celebration took the form of cleansing the environment," he said.
Master Jabbi thanked NYAAMA for choosing the Sukuta-medina Development Association as partner in working towards eradicating malaria in The Gambia.
He said at Sukuta-medina, they are ready to work with any organisation in the interest of nation building.
Kemo Wally, president of NYAAMA, said the association remains committed to eradicating malaria in The Gambia.
He said the aim of the association is to ensure that The Gambia is free of malaria through environmental cleanliness.
Read Other Articles In Article (Archive)