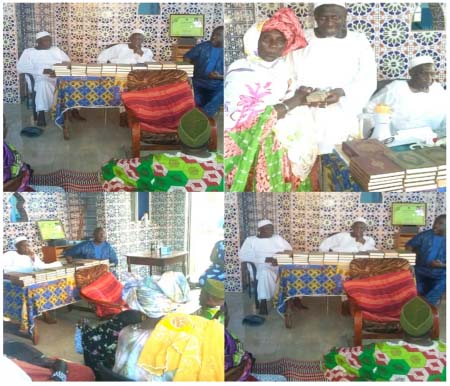 (Friday September 02, 2016 Issue)

The community of Sukuta has presented a cash of D20,000 to the Imam of the community's central mosque, Ismaila Beye, on Wednesday in reverence for his performance.

Members of Sukuta Madina Development Association said the money was in appreciation of the national award presented to the Imam.
Imam Beye was among several people decorated by President Yahya Jammeh, recently, in recognition of their "invaluable contributions" towards the July 22nd revolution.
Muhammed Jabbi, secretary general of Sukuta Madina Development Association, said Imam Beye has continued to play a pivotal role in the development of Sukuta and "his name will remain in the records as far as Sukuta is concerned".
He described Imam Beye as a great leader who has been diligently serving Sukuta community for years and has been very instrumental in the achievement of numerous endeavours in the community.
Mr Jabbi commended the Imam for his "outstanding model of piety, selfless devotion to duty and exemplary service" to the community of Sukuta.
Alieu Keita, chairman of Sukuta Madina Development Association, said they deemed it necessary to honour Imam Beye for the good things he has been doing for the community.
Presenting the cash on behalf of Sukuta community, Affie Jarjue, president of Sukuta Women's Kafo, said they would always be proud of Imam Beye and are "constantly praying" for his longevity and wellbeing to continue doing the job he started.
Imam Ismaila Beye, himself, expressed delight to the people of Sukuta for recognising and appreciating his religious and community duties.
"I am indeed very grateful and humbled by Sukuta community for this magnanimous gesture," he said.
The Imam said the award given to him by President Jammeh is not just for him, but for the whole community of Sukuta.
Read Other Articles In Article (Archive)