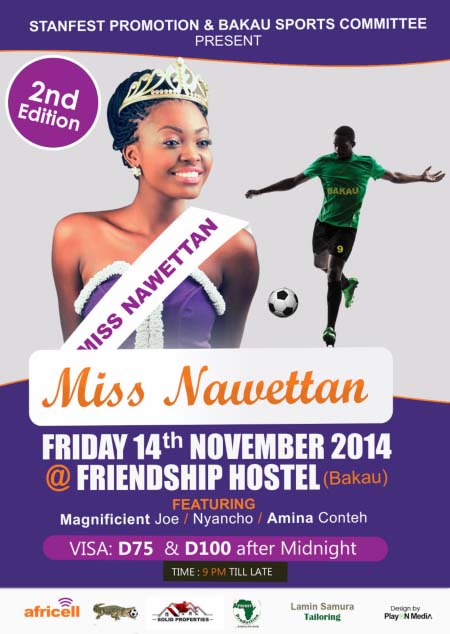 Standfest Promotion in collaboration with the Bakau Youths and Sports Committee is set to organize the second edition of the Miss Nawettan and a juggling competition slated for 14th November 2014 at the Friendship Hostel in Bakau.
The main aim of the show is to support all sporting activities in the Gambia in general and Bakau in particular, and to also help in promoting music and culture.
The theme for this year's event is: "Promoting peace and development in football."
The teams contesting for both the miss and juggling competition are: Linguere, Capital, Farokono, Mamakoto, Luniburg, Senior Lions, 5 Junction, Babiham, Vidar and Julangel FC.
Speaking at the press conference, the CEO of Standfest, Lamin Marong, shed light on the importance of the event, which he described as a helping tool for the people of Bakau as the profits gained from the event will be used in renovating the poor mini stadium in Bakau and other sporting venues.
Also speaking at the ceremony was Nyima Jadama, the secretary general of Standfest Promotion, who shared similar sentiments and urged all and sundry to come and support the event, which she said will benefit many, especially the people of Bakau.
Read Other Articles In Article (Archive)