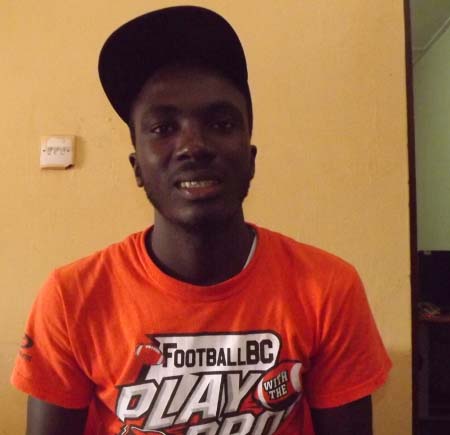 As the music industry is growing from strength to strength, there is yet another discovery of a new talented and young Gambian Afro-Manding upcoming artiste, whose skills and charismatic songs thrills anybody who comes across him.
He is Moriba Ceeesay who goes by his artistic name, 'Prince Moris aka Kodo Leka Diama (Money Talk) a resident of Kudang in the southern Central River Region, but who is based in Tabokoto, and is currently working on putting the finishing torches in studio to release his much-awaited 11-track album.
In a brief encounter with Standard Entertainment Anchorman DJ MK, Kodo Leka Daima spoke about his music career, new upcoming album and why he chose to be an artiste despite hailing from a non griot background.
He said: "I started my music career since 2011, when I was going to grade 11 at Gambia Senior Secondary school in Banjul. I released my first song in 2011 during our graduation ceremony at the Gambia High School. Since then I have worked on 11 songs. I am currently working on releasing a new song, which I am recording at Mandela and TK Sons Recording Studio and Sky High".
Prince Moris said: "When I release my first song people will really appreciate it. During the graduation ceremony, which coincided with my launching, it was attended by our school authorities including the principal, who was very happy about the performance. Music is my way and I can do it, especially Afro Manding."
"I am working on launching my new album, but my challenge now is a sponsor. So I am calling on institutions and people to come forward and generously sponsor my album launching. I have many lyrics that are yet to be recorded."
Moris said he works with and seeks guidance from other Afro Manding artistes including Manding Mory and Brokeh.
"They do help me. I have performed in many events in CRR and URR and I am working on a project to tour CRR, URR and if possible Cassamance."
He hopes to take Gambian music to higher heights, stressing that the Gambian music industry has a lot of talents that should be nurtured.
In his words: "I am working with one artiste called AJ from Sukuta on my new song, but as said, I am looking for sponsors. The more sponsors I have the more recording I will do…I have the talent, courage and belief in me. I do have challenges, because when my family heard that I am an artiste they felt discouraged, but what I told them was that I believe what they say, but I have got the talent and needs to do it.
"They blessed me, and I got the inspiration. My family gives me the courage. This last Tobaski I hosted a show in my village Niamina Kudang, and my villagers appreciated my music."
He urged producers and DJs to play young coming artistes' music to encourage them in continuing their music career.
"I must thank all my fans and loved one. One-day things will be fine by God's power and wisdom."
Anyone willing and able to sponsor the new album of Prince Moris can reached him on: 00220 6159571
Read Other Articles In Article (Archive)