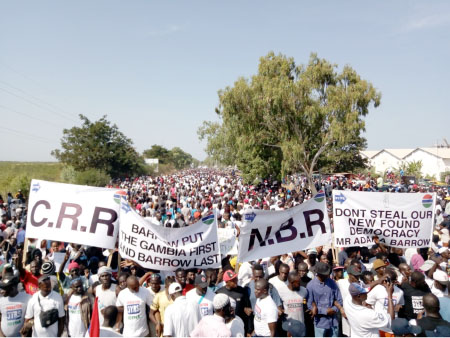 A sea of people on Monday thronged the Banjul Highway protesting against President Adama Barrow's desire to rule the country beyond the three years in contrast to Coalition 2016 Agreement that brought him into office on 19 January 2017. The protesters are demanding that Mr. Barrow steps down by 19 January, 2019.

The protest was spearheaded by 'Operation Three Years-Jotna – a movement that was formed in 2018 on the grounds to make Barrow honour his agreement with coalition partners by stepping down.
According to the movement, Mr. Barrow had campaigned for Gambians to vote him three years; and then he would step down after three years.
Some protesters were carrying banners with different inscriptions: 'No to Self-Perpetuation Gambians Voted for Three Years Transition; An Agreement is an Agreement, Respect the 2016 Coalition Agreement; Barrow Put Gambia First and Barrow Last; ECOWAS Come and Get Your Adama Barrow 3 Years Jotna.' among others.
The protest letter was handed to Ebrima Sankareh, the government spokesperson through Haji Sawaneh, the Public Relations Officer of the 3 Years Jotna.
The five hour protest started at Sting Corner on the outskirts of Old Jeshwang and stopped 200 meters before the Denton Bridge. Personnel of the Police Intervention Unit (PIU) dressed in combat-ready gears, with anti-riot full face masks were stationed at the Denton Bridge.
The 3 Years Jotna had also handed over their letters to the UN, ECOWAS, U.S. Embassy in Banjul, Nigerian Embassy, Gambia Press Union and civil society orgaisations, among others.
Abdou Njie, the chairman of 3 Years Jotna ,who spoke to journalists after the handing over of the letter said: "Everything is now left to President Adama Barrow. We have done what we intended to do and it was 'very successful'. I believe if you write a letter to someone you listen to the individual first before you take another step."
Mr. Njie expressed optimism that President Barrow would reply to their letter before the stipulated date. "President Barrow knows that people voted for him in the 2016 Presidential election based on the three years agreement. Therefore, he should respect and honour the three years agreement," he said.
He added: "I am confident that Barrow will reply to our letter because he has seen the number of people that turned out during this protest. I'm sure he will reply because it's not donkeys that come out to protest. We're humans so he will respect that."
According to him, if President Barrow wishes he could throw the letter to the dustbin. "What is more important is that the entire world knows that people turned out largely to protest against his desire to rule the country beyond three years 2016 coalition agreement"
Read Other Articles In Article (Archive)