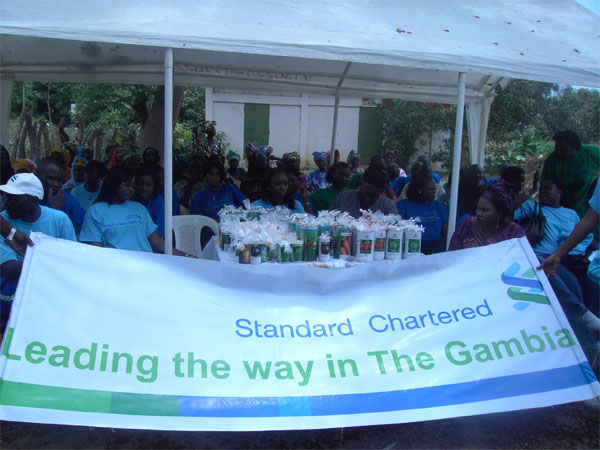 Standard Charted Bank last Thursday donated 7, 500 sachets of various vegetable seeds, including tomatoes, onions, cabbage, sweet pepper and carrots.
In addition to the donation of vegetable seeds, no fewer than 50 staff of the bank also took the responsibility of spending the day at the garden to assist the women in their work as well as educate them on The Gambia's interest bearing savings accounts, and the bank's environment and suitability agenda.
Ms. Musukebba Ceesay, Chief Information Officer of 
Standard Chartered, said the bank has a strong history of supporting the communities in which it operates, especially in the developing world where she said, many of its employees live and work.
"We believe that our social contribution, environmental protection, economic development and good governance are fundamental to ensuring the sustainability of our business and this also translates into ensuring the sustainability of the space we operate in," she said.
She revealed that in the recent past, Standard Chartered Gambia Limited has contributed over D17million in community projects in The Gambia. She added that the bank remains committed to initiatives in youth, health and education both financially or through volunteering initiatives.
"This week Standard Chartered Bank in all our markets in Asia, Africa and the Middle East is celebrating our brand and values, which guide the way we work with colleagues, customers, suppliers and other stakeholders," she said.
"Whenever an individual comes into contact with the bank, we want them to take away a feeling of partnership and professionalism, which comes from living and acting on our dynamic brand values. For Standard Chartered, values are how we differentiate ourselves in our dynamic markets," she added.
Read Other Articles In Article (Archive)