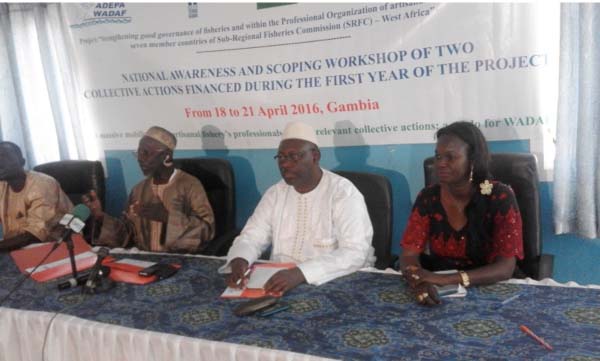 Fisheries Gambia in collaboration with ADEPA Fisheries WADAF in Senegal has organised a three-day workshop to sensitise stakeholders in the artisanal fisheries sector.
The forum was organised under a project aimed at strengthening good governance within the Professional Organisation of Artisanal Fisheries (POAF).
The organisation operates in the seven member countries of the Sub-regional Fisheries Commission (SRFC) West Africa.
Speaking at the opening ceremony, permanent secretary, Ministry of Fisheries, Fatou Sosseh-Jallow, said the workshop objectives included strengthening the capacity of participants to play a more significant role in policy formulation.
The workshop also sought to strengthen partnership and cooperation between and among professional organisations of artisanal fisheries, the national fisheries administration, WADAF and SRFC.
Madam Sosseh-Jallow expressed optimism that the workshop would come up with concrete and attainable recommendations for the benefit of all fisheries stakeholders.
Musa Mbenga, executive secretary of WADAF, said WADAF was formed 22 years ago in Cote d'Ivoire by four organisations but today, it has 16 countries including The Gambia.
Mr Mbenga pointed out that many countries in West Africa can do better if support is given to them.
He said it was in this vein that WADAF came up with a project targeting to improve the livelihood of predominant fishing communities.
He also explained that in The Gambia, WADAF will come up with two new projects that will target Bakau and Jeswang fishing sites.
WADAF executive secretary also noted that "the governments of the various member countries are doing a great work in helping their respective fishing industries".
However, he said, a lot need to be done for the fishing industry to further grow and develop.
Read Other Articles In Article (Archive)