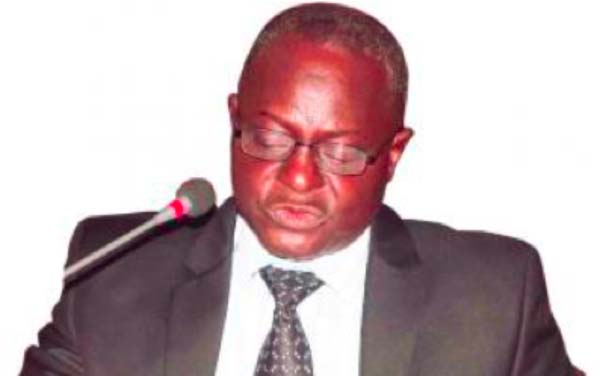 The Gambia's Auditor General Karamba Touray recently told the National Assembly's PAC/PEC during presentation of the audit report, that their findings have revealed the cancellation of payment vouchers without debit memos, amounting to D102,400 for the Ministry of Defence.
He said the payment vouchers amounting to D102,400 were said to have been cancelled at the ministry's level.
According to Mr Touray, they requested for evidence of the cancellation to enable them verify if the vouchers had actually been cancelled.
However, he said, up to the time of completing their audit, the evidence (debit memo) was not provided for review, adding that the amount might be diverted for personal use.
He said they examined the contract document for the period under review and noted contracts for construction works totalling D115,438,215.60 were undertaken by the Ministry of Defence in various locations.
However, he said, there were no indications that competitive bidding was followed in the award of contracts, in contravention of procurement regulations.
He added that their audit further revealed that the contracts committee of the Ministry of Defence was not "properly constituted".
He said the Ministry of Defence's contracts committee comprises two members, namely the permanent secretary and the deputy permanent secretary, contrary to section 49(4) of the GPPA Act 2001.
"There was no evidence that the Contracts Committee met to evaluate bids any time during the period under review as there was no minutes of such meetings," Mr Touray said.
He said their review of contract files at the ministry revealed that contracts were awarded for the construction of new facilities, as well as renovation of existing structures.
"As part of our audit, we visited some project sites to enable us assess whether works were actually carried out and to specification," he said.
He further stated that their review of contract documents revealed that contracts for the construction of fuel facilities at Fajara, Yundum and Farafenni Barracks amounting to $39,456 and $42,744 respectively were awarded to Capital Gas.
He said that although the structures were erected, it was noted that the facilities were not operational up to the time of their visit.
They reviewed the contract documents and noted that a contract for the rehabilitation and upgrading of Fajara Army Barracks staff living quarters phase 2 amounting to D53,970,550 was awarded to Gai Enterprises on 11 May 2010, he further stated.
He said the contract did not indicate the number of buildings to be rehabilitated and the specific types of works to be carried out.
Their examination of the contract documents revealed that a contract amounting to D37,618,060 was awarded to Gamworks for the rehabilitation of staff living quarters at Yundum, he said.
He also said the contract, which was signed on 8 April 2010, indicated the works to be carried.
Read Other Articles In Article (Archive)