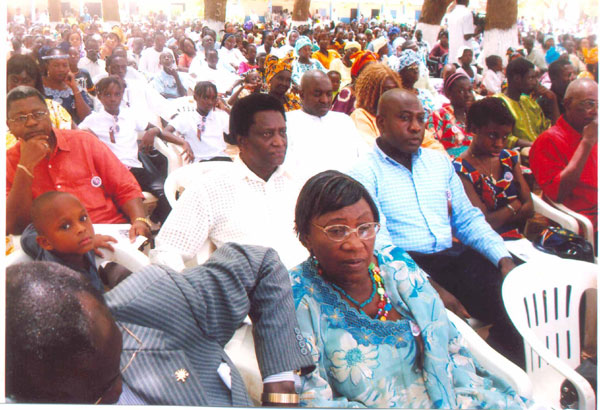 The feast of Saint Therese of the Little Flower, from which many Catholics name their children and Churches, gathered thousands of Catholics and well wishers in unity to celebrate the Feast of Saint Therese at the Saint Therese's Lower Basic School at Kanifing. It has become a tradition now in The Gambia for Christians to come together by leaving their Churches to patronise the other on their feast day celebrations. Saint Therese feast this year made a significant stride and the attendance rose above the usual. Many dignitaries were in attendance, including Hon. Edu Gomez, the Minister of Justice of The Gambia. Theresa Adekunle Kanjia represented Christian Panorama and writes the full story.
The atmosphere like the past was gripped by prayerful mood, while those who had uniforms bearing Saint Therese image from the past wore them and moved about before the beginning of the Mass. Reverend Fr. John Mendy the chief celebrant made it hot with his charismatic songs inspiring those that came dull. The celebration was also to send him off to his new station and to welcome Fr. Michael Ndecky to the Saint Therese's parish. As people got busy with the Mass, more members came in to be a part of the celebration. Meanwhile food and drink were in abundance waiting to be consumed after the whole celebration. The parish council was behind the celebration and had done what they could to get it organised. As in the early days, Christians were known by their unity and oneness in celebrations and their living and praying together as in the Acts of the Apostles. By standers would point their hands and say, "See how they are united, see how they pray together as one."
In his sermon Fr. John Mendy praised Saint Therese saying she was a young woman who wanted to know who God was. He said she later came to know who God was and asked, "How can I radiate the love of God, how can others know God?" It does not matter how many times we gather here to celebrate, Fr. John said "Serving God, serving man should be our motto or else we are missing the point."
He pointed out facts about how the Apostles saw their master doing good, healing others and they said to Him, "Lord increase our faith." They knew they were following a Master that would take them to Heaven. They knew they did not have enough, they did not know much, so they asked Jesus, Lord increase our faith. Jesus said, "Your faith must be as big as a Mustard seed." Fr. John described mustard seed as a very tiny grain, which is hardly visible in the palm.
Faith, he said, no matter how small relies on God and its surrendering to God. He further said that if you surrender to God, there would be no mountain on your way. He said God would not disappoint you. "When God is with you, you would not fear the troubles of the world. Everything is vanity and it disappears but God remains," she said. "Saint Therese discovered these," he said.
Father John reminded the congregation that they were all servants of God and gave man the responsibility to carry out. "We are servants of God. Many people will stretch out their hands after working in the Church for pay but they are only saying they are not worthy servants. We should work for the Church. Someone donated D20, 000 but asked no to be named. Others will give D5 and they would ask why their names were not mentioned. Do not rely on the praises of this world, 'Jesus is telling us.'  Remember always that whatever you have done is a responsibility you have carried out.
We need to be reminded about our baptism that we had received something during the process. Some people remind us that Catholics are dead people. They often ask us, are you born again?" He said.
Father John further said that some people are afraid of showing that they are Christians. That when they enter vehicles they would hear others saying, "Bisimilai" but for them, it would be difficult to see them make the sign of the Cross as they enter. The Cross-will save us. There is power in the cross.
John the Apostle said, "For God so loved the world that He gave His only begotten Son and whosoever believes in Him will not perish but have eternal life." Love he s aid has no barrier, it over looks the barrier of colour. Love concerns carrying out your responsibility. The family of Saint Therese is love. In our school that is what we profess, in Church and outside. Many people do not respect time. Many people lack self control when you are in control you should not take it. You in that office, it does not belong to you, be contempt with what you have."
Fr. John urged the congregation to remain strong in the love of God. "You are to rejoice because you have found favour with God. Let us ask God o transform our lives. Let us continue to pray in the intercession of Saint Therese, that we would have love to the fullest," he said.
Talking with Elizabeth Jawo Njie of the Blessed Sacrament Catholic Church, she expressed her delight between the Catholics in terms of Church activities. She said the Feast of Saint Therese should be a feast for those who love doing a little good as Saint Therese did. She longed for the glory of God and she got it by her action and became a very young Saint in the Church. "The Celebration would therefore attract the young, the old and any other. We shall all be there and we hope to receive Christian Panorama will come to be a part of our own celebration," she said. Please send email to Panorama at (dan242austin@yahoo.com).
Read Other Articles In Article (Archive)