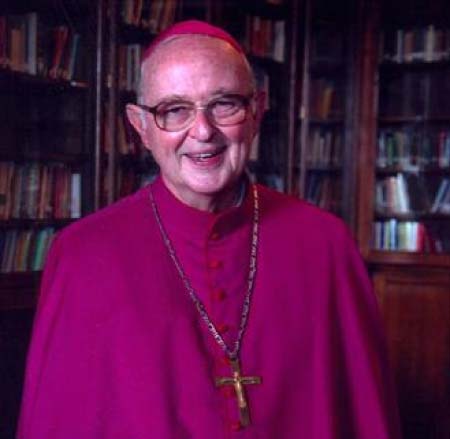 (Friday, December 27, 2013 Issue)



After Jesus had been born at Bethlehem in Judea, during the reign of King Herod, some wise men came to Jerusalem from the east. 'Where is the infant king of the Jews? they asked.
It was a very innocent question coming from men regarded as 'wise'.They were simply trying to follow the path of a special star which, they believed, might lead them in their search for the truth, perhaps even for the one true God. In those days, there were some rumours or expectations that the ruler of the world would come from Judea.
This star pointed them towards Jerusalem. On arriving there, they asked for guidance and direction: 'where can we find the infant king of the Jews'? Little did they know of the consequences of that innocent question. King Herod at once felt threatened. He summoned his religious advisers. And they told him that the Prophet Micah had foretold that the Christ would be born at Bethlehem in Judea.
Herod then called the wise men and told them to go to Bethlehem. After that, they should let him know where he too could find the infant king so that he in turn could go and pay homage to him!
The evangelist Matthew records this story among the various events that surrounded the birth of Jesus. At the end of this story, he tells us that '(the wise men) were warned in a dream not to go back to Herod and returned to their own country by a different way'. Matthew then continues his Gospel with two short stories: the Flight into Egypt and the Return to the Land of Israel. The angel of God speaks to Joseph in a dream. He is told to get up quickly and take the child and its mother and to flee into Egypt and remain there until he gets further instructions. The reason: 'Herod is about to search for the child so as to destroy him'.
A few years before that, Herod had two of his own sons executed. He suspected that they were a threat to his power. Then around the time of the birth of Christ himself (4 B.C.), he killed a third son for the same reason. It goes without saying that the question which the wise men put to him must have alarmed him. It was clear that nothing would stop him from putting an end to the life of the 'infant king of the Jews.' His solution led to was what we know today as the massacre of the holy innocents.
3.'Then Herod, when he saw that he had been tricked by the wise men, was in a furious rage and ordered that all male children in Bethlehem and the region, who were two years old or under, should be killed….judging from the time that the wise men had asked about the 'infant king'. Herod was now certain that he had been betrayed by the wise men. And along with that the rumour of a belief in the coming of a Messianic king at that time called for swift action. He sensed hostility or opposition all around him. And he was determined to wipe out any threats to his power as king of Judea.
In the meantime, Joseph, Mary and the child were well on their way to Egypt where they could expect to find some security and shelter. Apart from that, it is hard to imagine the physical discomfort of such a journey. Then on top of that, there was the constant anxiety about the safety of the child and their future as they made their way to Egypt along the dusty roads in winter time – helped only by their faithful donkey. Their experience as refugees in this part of the world reminds us today of the thousands of families and others who are victims of the same suffering and hardship.
After some time, Joseph receives another message in a dream from the angel. He is told that Herod has died and so the time has come for him to return home with his family. But there was still one final bridge to cross. Joseph learns that the new King of Judea is a fourth son of Herod the Great, the most brutal of all Herod's sons. In this case, there is no going back to Bethlehem (Judea). And Joseph is instructed once more in a dream to go back to Galilee, where they eventually settle in Nazareth, where everything began with the visit of the Angel Gabriel to Mary.
Later on, in the public life of Jesus, this would cause some confusion with regard to the prophecy stating that the Messiah would come from Bethlehem in Judea!
'Can anything good come out of Nazareth'? Nathanael would say…
'Prophets don't come from Galilee', the Pharisees would argue.
From Nazareth to Bethlehem; from Bethlehem to Egypt; and from Egypt back to Israel - to settle in Nazareth, Galilee. Such was the fate of the Holy Family in its early months as recorded by Matthew. In Luke's Gospel, the early days of the Holy Family are less tragic than those we read about in Matthew's Gospel (which we will hear this year, 2013). Such events remind us today that the mystery of the 'Word made Flesh' was truly real. The Son of God became a man like us. Come to me all you who are overburdened. Have no doubt that he understands our problems.
Even as a tiny baby, He was subject to the upheavals and violence of history and its political rulers at that time. In those early days when Mary would have carried him a lot in her arms, he must have sensed those moments when his mother experienced a lot of fear and anxiety
When we hear or read about the awful tragedies and suffering of the people who now live in what we call the 'Holy Land' and its neighbours (Syria, Lebanon, Egypt), we are shocked and saddened at their present situation. Christians in particular are affected by these upheavals. The Patriarch Gregory III of Laham in Syria reported: 'the fear is not from my Muslim neighbour but rather from the fear of extremists'.
It would seem that life has hardly changed for these people since the time of Christ almost two thousand years ago. The actors involved have changed, yes: the perpetrators of the injustice along with the unfortunate victims of these evils. Consequently, our world today is going through an unprecedented surge of migrants and refugees as they seek to escape in large numbers for safety.
Pope Francis reminds us that, in such situations, refugees continue to live in hope in spite of situations that seem helpless. Deep down in their hearts, they long for a better future not only for themselves but also for their families. Because of this, they are ready to undertake huge risks and suffering in search of a better world. We can so easily condemn them . …as if all were pirates!
Every year, we (Catholics) are invited by the Pope to contribute generously to a Universal Solidarity Fund in aid of the 'Holy Land'. It is a country that is sacred to Christians in a special way – the place of the birth, life death and resurrection of Christ. It is also sacred to Jews and Muslims. Unfortunately, it is a land that is torn apart by political and religious violence, strife and injustice. Over the last few years, Christians have been forced to leave the country and find refuge elsewhere due to persecution. This is a cause for concern for all of us….how long more can we expect to find the presence of a stable Christian community, living in peace, in the Holy Land. Will we continue to have access to the sacred places where we wish go on pilgrimage?
Our collection for the 'Holy Land' takes place each year in early February. I appeal to all Catholics in the Diocese of Banjul to contribute generously to this worthy cause. I would also like to invite all Christians as well as men and women of good will in The Gambia to make their own contribution.
Brothers and Sisters in Christ, God has given us yet another year in which we can celebrate with joy and hope the birth of the child that is called the 'Prince of Peace'.
It is right and just that we do so by sharing together some tasty food and drink. But we must also remember in some way the stranger, the refugee, the hungry not just in our own country. We belong to a human family that is wider than ourselves…..for if we fail to remember these, we cannot 'celebrate' the good news of great joy in spirit and in truth.
O Emmanuel, God present in our midst and long awaited Saviour, come and be with those torn by war or those abandoned in any way. Amen. 
Read Other Articles In Article (Archive)