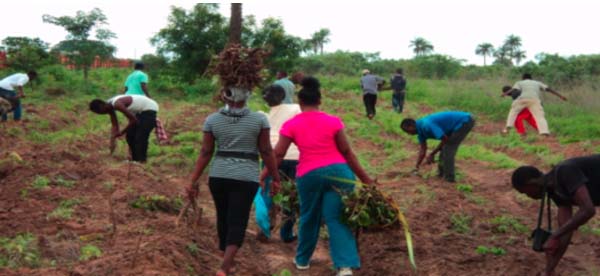 Staff of the Department of Parks and Wildlife Management and Bird Watchers Association, in collaboration with Saro Tree Nursery, recently embarked on a massive tree-planting exercise at Abuko Nature Reserve in West Coast Region, conscious of the fact that the environment plays a preponderant role in nation building.
During the exercise, more than 5,000 trees, mainly gmalina, were planted in a programme supported by Gambia Experience.
Speaking to reporters shortly after the exercise, Momodou Lamin Kassama, director of Department of Parks and Wildlife management, spoke at length on the importance of planting trees in national parks (such as Abuko nature reserve).
Planting trees in national parks, he noted, will protect wildlife from going astray because thick forests will serve a better habitat for the species in the reserve.
According to him, Abuko nature reserve is located some 25km from the capital city of Banjul and has been the first reserve protected as a water catchment area since 1916 and officially declared as a nature reserve in 1968.
In 1978, a further 29ha were added to the original 77ha, bringing it up to its current size of 106ha.
He assured partners of his department's readiness to keep parks always open for national efforts to plant more trees in the country, while calling on communities to preserve and conserve their environment.
He noted that the exercise would go a long way in restoring and regenerating the country's national forest cover as well as improve agricultural production and the well-being of residents. 
For his part, Momodou Lamin Kinteh, CEO of Saro's Tree Nursery, spoke at length on the importance of the exercise.
He added that Gambia Experience contracted Saro' Tree Nursery to provide 8,000 gmalina stumps and cashew seedlings to be transplanted in identified communities within the east, namely Giboro Kuta, Jenun Kunda, Duwasu and Sinchu Alhagie, and a fence to protect the transplanted stumps and seedlings in strategic locations to reach maturity.
Park warden Abdoulie Sawo expressed happiness about the magnitude of work already been done, while calling for active participation of all Gambians in the crusade to restore the lost forest.
The better for the environment the better for human living, he says.
Kawsu Saho, chairman of Bird Watchers Association, urged his people to redouble their efforts in the protection and prevention of the forest against bush fires and exploitation of the forest resources.
He commended bird watchers and the staff and all those contributing to the restoration of the forest.
Read Other Articles In Article (Archive)