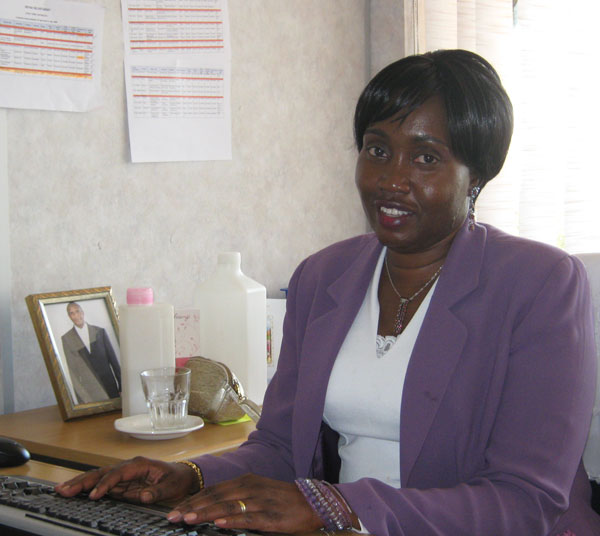 Hello and a warm welcome to yet another scintillating edition of Personality of the Week, your weekly column aimed at bringing prominent Gambian top notches and achievers into the limelight.
In today's edition, we bring you the profile of a woman who today ranks among the finest citizens Gambia and Africa in general has ever produced. Her capabilities, skills, high sense of discipline and strategic initiatives put her upright as a corporate citizen.
She is visibly one of the most development-oriented women in Gambian society today. Born and brought up into a highly educated and respected family, her flair for quality and excellence is easily noticeable. She is no other person than Mrs. Fatou Ceesay-Jallow, Human Resource Manager, New Partnership for African Development (NEPAD) Secretariat, Johannesburg, South Africa.
Some of her high profile and international experiences today served to reinforce her conviction to strive hard and diligently in making a place for herself in the top strata of society, growing in tandem with her flair for quality and excellence in her relentless desire to succeed in the corporate sphere.
Business is no doubt her cup of tea. Like any other serious minded woman, business and pleasure are two different things. As many of her peers at home and abroad readily attest, Fatou owns her success to hard work and exemplary commitment to duty and would undoubtedly have a moving and inspiring success stories to recount since she shines at any corner of duty called.
With the sole objective of having a strong human capital generalist background with specialist experience in performance management, labour relations, recruitment and selection, and administration with vast practical experience in the latest global HC best practices, Fatou did her O' Level at the St. Joseph's High School, Banjul, The Gambia.
From October 1984 to December 1985, she did her A' Levels Certificate in Biology and Chemistry at Cardinal Educational Enterprise, Freetown, Sierra Leone. A year later, Fatou proceeded to Njala University College, Freetown, Sierra Leone where she did her B.Sc. Education in Major Biological Science.
From October 1994 to December of the same year, Fatou graduated from the University of Pittsburgh, PA, USA with a certificate in Human Resource Management and Personnel Management and then proceeded to Kentucky State University, Frankfort, KY, USA, where she did her Master's in Public Administration.
On returning to the Gambia, Fatou began work as Senior Assistant Secretary, at the Department of State for Health and Social Welfare and Women's Affairs.
From Health and Social Welfare, Fatou then moved to the National Water and Electricity Company (NAWEC) as Senior Administrative Officer where she facilitated personnel administration. She conducted training needs assessment, developed and implemented training plan, and facilitated travel programmes.
From June 1998 to February 2002, she worked as Human Resource/Organizational Development Manager at action Aid-The Gambia. She was responsible for human resources management, organizational development and administration; facilitated strategic human resource planning and recruitment, selection and orientation of employees and consultants. She then proceeded to SOS Kinderdorf-Gambia office as Director Regional Adult Training Centre where she was responsible for the overall strategic planning, design, development, implementation, monitoring and evaluation of the regional training and development programmes.
From July 2004 to January 2006, Fatou took up another appointment at the United Nations Development Programme (UNDP) and Ministry of Health and Social Welfare in Mbabane, Swaziland as Technical Advisor - Human Resource Specialist. From UNDP, Fatou took up another appointment as Human Resources/Administrative Consultant at the United Nations World Food Program also in Mbabane, Swaziland.
From March 2007 to date, Fatou is the Human Resources Manager at the New Partnership for African Development (NEPAD) Secretariat in Johannesburg, South Africa. As a Human Resource Manager, she manages the Human Resources function and facilitate the application and implementation of general best practices in the administration of the NEPAD Secretariat.
Read Other Articles In Article (Archive)