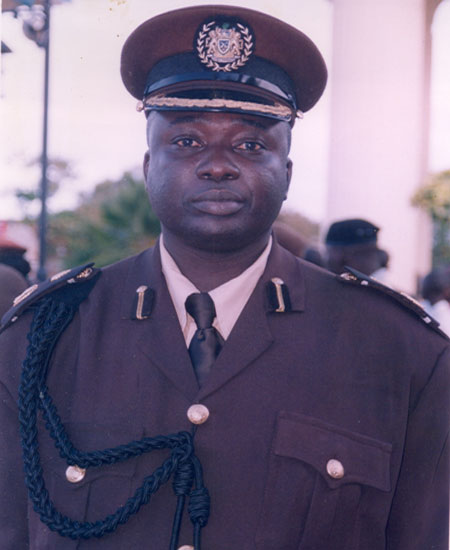 Hello and a warm welcome to yet another scintillating edition of Personality of the Week, your weekly column aimed at bringing prominent Gambian top notches and achievers into the limelight.
In our today's edition, we have the singular honour to bring you the profile of an elite officer, whose progress to greatness, distinguished by the admirable quality of dedication to duty is exceptional. He is an imaginative and innovative character who always likes to try new things.
There is no denying the fact that the Gambia Immigration Department has over the years earned the reputation of being one of the most amicable, hospitable and well-trained public servants in the government circle.
Recognition and applause go to the gallant men and women of high calibre, who are juggling up and down, here and there, in and out, day and night, in execution of their duties of office at the Gambia Immigration Department; coming up with innovative and comprehensive working strategies that has over the years contributed a lot to help catapult the Department to a better stead.
An exponent of such mark of performance in office today is the calm and down to earth Pa Baboucarr Mboob, Commissioner of Admin and Finance at the Gambia Immigration Department.
Rotating from one section of the Gambia Police Force and Gambia Immigration Department to another had made Mboob to become versatile, effective, efficient and well-seasoned officer.
Described as very strategic, thoughtful, organised, compassionate, saintly, incorruptible and honest to goodness, this man is a lot more than what he seems.
The man himself has come a long way. He set out at his public career in the Gambia Police Force in 1979, serving in the Criminal Investigating Division (CID) and then to the Gambia Immigration Department where he rose up through dint of diligence, determination and discipline to the rank of Commissioner of Admin and Finance at the Immigration Departmen.
Born on 3rd October 1960 in Sukuta, Kombo North, Western Region, Pa Baboucarr Mboob started his educational journey at SukutaPrimary School from 1965 to 1974. He then proceeded to SukutaSecondary School from 1974 to 1978 where he graduated with flying colours. He worked for some years at the Motor traffic and control room of the Police before later joining the Gambia Immigration Department.
Pa Mboob after few years of joining the Immigration attended a Professional Development course at the Management Development Institute, an Immigration Course at the Immigration Institution in Kano, Nigeria and also a special training on how to combat drug at the Bundas Criminality- German Police, Ghana.
The literary giant, stimulated by the believe that education enhances job performance, later proceeded to the Immigration Institute in Kano, federal Republic of Nigeria where he undergone series of training and won three awards: The best student academic; The best shooter (Max Man) and the commander of the largest hostel awarded.
In 1998, he received a special training on how to combat drugs by BKA in Accra, Ghana. From January 2006 to January 2007, Commissioner Mboob was Camp commander and Chief of administration and personnel in Sudan, Darfur as part of the African Union Mission.
As the camp commander at that time, Mboob was responsible for the monitoring of the day to day activities in the camp, prepare the rooster for postings, prepare monthly reports for necessary actions, assign officers when necessary and quarterly mission to respective camps among others.
In 1994, commissioner Mboob was the Divisional Commander at Western Region and he was in charge of three camps namely Arankoli Kunda, Siffoe and Kitty refugee camp. In 1995, he was Commander in charge, Upper River Region (Kerr Al-hassan refugee camp). This camp was having refugees mainly from Sierra Leone, Liberia, Burundi and Somalia.
He was responsible for the smooth running of the camps, give advice to government on the camp, give statistics of arrivals, attend to queries and problems in the camp and liase with the UNHCR on refugee matters.
Five years later in 2000, Commissioner Mboob was officer in charge of the North Bank Region. During this time, the camp was officially closed by UNHCR base on the fact that best the part of the refugees were resettled to America and Canada. Some voluntarily returned home during the voluntary repatriation process and some integrated into the Gambian community.
From 2000 to 2003, he was officer in charge, statistics and investigation and from there to 2006, as Lecturer on ECOWAS Protocol, Land Border, Seaport and Airport Procedure. From 2006 to date, he is the Commissioner of Finance and Administration at the Gambia Immigration Department.
Recounting some of his challenges as Commissioner of Admin and Finance of Immigration, with competing time, combating work with family life, this man devoted most of his time on the work.
As the man responsible for Finance and Administration, Commissioner Mboob is responsible for the overall management of the Immigration Department Administration office in an efficient, highly professional and peaceful manner and also give adequate support to all Immigration Personnel, activities and serve as a role model to other senior and junior officers.
He was a one-time goalkeeper of Sukuta town team. He also represented Basse in many Safras (Sub Regional gathering) in countries Mali, and Senegal.
Happily married with three children, Mboob's hobbies are self-development, meeting people, reading, watching movies and fishing.
Read Other Articles In Article (Archive)